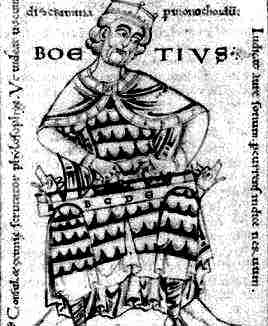 In my catch-up scanning of the blogs this morning, through my jetlag fog I managed to note someone's question about Boethius and whether or not he has been beatified or canonized.
Here is his entry in the Martyrologium Romanum found on 23 October:
5*. Papiae in Liguria, commemoratio sancti Severini Boetii, martyris, qui, scientia ac scriptis praeclarus, in carcere detentus tractarum scripsit de consoloatione philosophiae et Deo usque ad mortem a Theodorico rege inflictam cum integritate servivit. … At Pavia in Liguria, the commemortation of Saint Severinus Boethius, martyr, who, a man celebrated for his knowledge and writings, wrote a tract concerning the consolation of philosphy while detained in prision and served God with integrity until his death inflicted by King Theodoric.
Take note that the entry calls his "Saint" Boethius.
You may be interested to know that Boethius tomb is in the crypt of the same church when St. Augustine's remains are interred: San Pietro in Ciel d'oro.