"A man content to go to heaven alone will never go to heaven" – Boethius

Today is the feast of St. Severinus Boethius (+525), the author of the Consolation of Philosophy.  He was a pivotal figure at the cusp of late Antiquity and what are called the Middle Ages.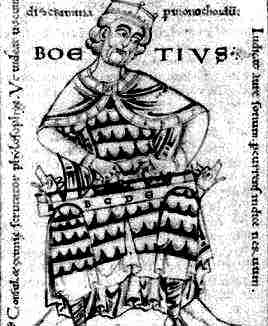 Here is his entry in the Martyrologium Romanum:
6*. Papiae in Liguria, commemoratio sancti Severini Boetii, martyris, qui, scientia ac scriptis praeclarus, in carcere detentus tractatum scripsit de consolatione philosophiae et Deo usque ad mortem a Theodorico rege inflictam cum integritate servivit.
Who wants to take a crack at the Latin?
Take note that the entry calls him "Saint" Boethius.  So does the official Vatican Curia's calendar.
You may be interested to know that Boethius' tomb is in the crypt of the same church where St. Augustine's remains are interred:  San Pietro in Ciel d'oro in Pavia, south of Milan.