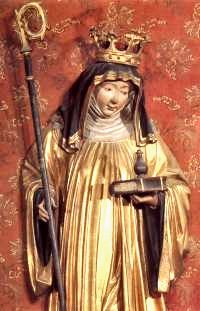 Today in the Martyrologium Romanum there is an interesting entry about St. Walburga, which make me think of a now deceased friend, Fr. Michael McGlaughlin, who died young of cancer. I will give you the entry first, then an excursus on something vile, and finally a fun story about the late Fr. Mike.
4. In monasterio Heidenhiemensi in Vindelica Germaniae regione, sanctae Waldburgis, abbatissae, quae, sancto Bonifatio sanctisque eius fratribus Willibaldo et Winebaldo rogantibus, ex Anglia in Germaniam venit, ubi duplex monasterium monachorum et sanctimonialium optime rexit… In the monastery of Heidenheim the Augsburg region of Germany, (the feast)
of Saint Waldburga, Abbess, who as Saints Boniface and her brothers Saints Willibald and Winibald were asking her, came from Anglia to Germany, where she governed very well a two-fold monastery of monks and nuns.
Saint Waldburga or Walpurga was born in Wessex in Anglia c. 710 and died at Heidenheim on 25 February 779. She and her brothers were the children of the Saxon St. Richard. In the Swedish calendar the feast of St. Walpurga 1 May, which is also called Walpurgis Night, a Viking fertility festival. Through syncretism the occasions blended together. Oxford Phrase and Fable informs us that in Germany on the Eve of Walpurgisnacht, witches would meet for evil pagan rituals on the "Brocken Mountain" (shades of Brokeback Mountain… yuk).
"Brocken the highest of the Harz Mountains of north central Germany. It is noted for the phenomenon of the Brocken spectre and for witches' revels which reputably took place there on Walpurgis night. The Brocken Spectre is a
magnified shadow of an observer, typically surrounded by rainbow-like bands, thrown onto a bank of cloud
in high mountain areas when the sun is low. The phenomenon was first reported on the Brocken."
It occurs to me that the confluence of themes such as the rainbow, unfortunately adopted by sodomites for their popular symbol, and the projection of a shadow, which is a sort of duplicate of oneself, together with the name of the mountain (so similar to that of the wretched movie) could be a point of "reflection" (pun intended). Aristotle said that "a friend is another self". Committed homosexuality, that is, chosen homosexuality, is one of the worst distortions of both the self and of friendship, and therefore of the order of things God wrote into our very nature.
Moving now to a far happier thing, I had a friend named Fr. Michael McGlaughlin, a very fine priest, who was named to be pastor of two parishes, one fairly large and one nearly microscopic, though with the long history and gorgeous little country church in an area largely pioneered by German settlers, respectively, St. Martin of Tours and St. Walburga. They stood may a mile part from each other. Fr. Mike, a very smart fellow, had managed to buy land contiguous to St. Walburga's property when it was cheap and before the huge housing and building boom hit. When it was time to discuss combining the two parishes Father made the suggestion that St. Martin and St. Walburga might be combined to be … wait for it… St. WalMart.