Here is a shot of one the intrepid staff at Gammarelli cutting fabric for the cope.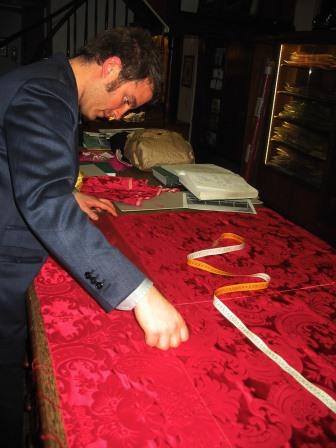 This reminds me of the famous Moroni portrait of The Tailor which hangs in the National Gallery.    It is an interesting painting, because Moroni depicts a tradesman rather than a noble or church figure.  Moroni, by the way, was influenced by the Council of Trent and was in the city when the Council was going on.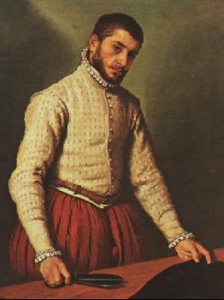 This painting has been used by Gammarelli for a long time as a kind of logo.   Here it is on one of their bags.
____
Dear readers… I will have a couple fundraising campaigns coming up.  (One will be for my upcoming 25th Jubilee.)  The present campaign is for a full Pontifical Set in fiery red silk damask with gold column trim.  
Right now the dollar is strong against the euro, so we would like to get this going fast.  We want these by 1 July, the Feast of the Most Precious Blood.
I have started a GOFUNDME campaign.
Your donations will go to the Tridentine Mass Society of Madison, a 501(c)(3) charitable organization, and they are tax deductible.
CLICK HERE
Link to share: https://www.gofundme.com/tutxmfak
You can choose that your name does NOT appear online in the list of donors.
To get an idea of what the vestments will be like, perpend.
In 2015, I was Assistant Priest to Bishop Paprocki for a Votive Mass for the Holy Innocents celebrated for the soul of Nellie Gray.  My friends Msgr. Charles Pope and Fr. Paul Scalia were Deacon and Subdeacon.  We had vestments from Gammarelli in a similar style to what we want to have made.  However, we want the full Pontifical Set: more guys = more gear.  Also, we should get gloves for the bishop in red, along with pontifical dalmatic and tunic.  Here is a little video from that Mass:
I think our set will be even more striking.
Ours will have the "column" gold trim, as do these purple/violet vestments. For example, just out of the shipping box, the purple set…
Everyone, please help.  Many hands make light work
Holy Mass needs beautiful vestments.
A full Pontifical Set typically includes:
– Chasuble with stole, maniple, burse, veil
– Four dalmatics with 1 stole and 2 maniples. (They might squeeze extra stoles from the fabric.)
– Humeral veil
– Cope and stole
– Antependium
– Gremial
– Fabric and trim for tabernacle veil.
Having a full Pontifical Set will enable us to have Solemn Masses and even help other Traditional Mass communities. When the Diocese of Madison has had ordinations, they have borrowed our gold dalmatics.  Mutual enrichment.
Brick by brick.
BTW… we are also working to complete a set in GREEN to match THIS.  We will, during the summer, start thinking about true Rose vestments.  But that's another story.
UPDATE 24 March:
I received photos from Gammarelli.  They are cutting the fabric for the red vestments.
The chasuble.
An action shot.
You can see how they have to figure out how the patterns will fit into the bolt, which has a pattern.  This requires careful planning.
This gives you a sense of the red silk.  This looks like the back of the chasuble and the chalice veil.