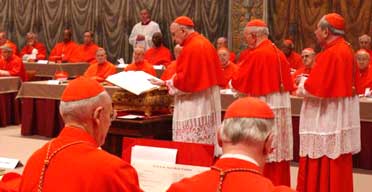 The Dean of College of Cardinals, Card. Sodano, is 81. He cannot enter or vote in a conclave.
The Sub-Dean is Card. Etchegaray, 86. He cannot enter or vote in a conclave.
If, quod Deus avertat, a conclave were necessary now, how would this work?
If the Dean and Sub-Dean a prevented because of age, the senior Cardinal Bishop presides over the conclave.
"But Father! But Father!", you are saying, checking your list of Cardinal Bishops. "Who would that be?"
Since I believe it is not just the senior Cardinal, but the senior Cardinal Bishop, that is in the office of Cardinal Bishop, I think it would be Card. Re, who was made Cardinal Bishop in 2002.
Card. Arinze has been Cardinal longer by far, made in 1985. But Card. Arinze was not made Cardinal Bishop until 2005.
I don't think the Cardinal Bishop-Patriarchs are part of this. If they could then Cardinal Bishop-Patriarch Daoud, Emeritus of the Syrians would be at the top of the list. He was made Cardinal Bishop-Patriarch in 2001 and since he is 78, he can participate in the conclave.
But I think the Cardinal Bishop-Patriarchs, insofar as they are Cardinals, rank after the Roman Cardinal Bishops.