As if planet killing asteroids and civilization killing CMEs weren't bad enough, now we get to think about…
"killer electrons".
At SpaceWeather:
A NEW SOURCE OF SPACE RADIATION: Astronauts are surrounded by danger: hard vacuum, solar flares, cosmic rays. Researchers from UCLA have just added a new item to the list. Earth itself.
"A natural particle accelerator only 40,000 miles above Earth's surface is producing 'killer electrons' [not to be confused with the Oh-My-God! Particle.] moving close to the speed of light," says Terry Liu, a newly-minted PhD who studied the phenomenon as part of his thesis with UCLA Prof. Vassilis Angelopoulos.
This means that astronauts leaving Earth for Mars could be peppered by radiation coming at them from behind–from the direction of their own home planet.
NASA's THEMIS spacecraft ran across the particles in 2008 not far from the place where the solar wind slams into Earth's magnetic field. Researchers have long known that shock waves at that location could accelerate particles to high energies–but not this high. The particles coming out of the Earth-solar wind interface have energies up to 100,000 electron volts, ten times greater than previously expected.  [An electronvolt (eV) is the amount of kinetic energy gained or lost by a single electron accelerating from rest through an electric potential difference of one volt in vacuum, and a unit of energy equal to exactly 1.602176634×10?19 joules (J) in SI units. I hope that helps. What can these killer electrons do? 1.1 eV is the the energy EG required to break a covalent bond in silicon. ]
How is this possible? Liu found the answer by combining THEMIS data with computer simulations of the sun-Earth interface. When the solar wind meets Earth, it forms a shock wave around Earth's magnetic field, shaped like the bow waves that form ahead of a boat moving through water. Within this "bow shock" immense stores of energy can be abruptly released akin to the sonic boom of an airplane.
Liu found that some electrons are shocked not just once, but twice or more, undergoing mirror-like reflections within the bow shock that build energy to unexpected levels. Most of the boosted particles shoot back into space away from Earth.
"Similar particles have been detected near Saturn, suggesting that the process is at work there as well," says Liu. "Indeed," adds Angelopoulos, "this type of particle acceleration could be happening throughout the cosmos–from supernovas to solar storms–wherever a supersonic wind hits a barrier."
Meanwhile, back home, Earth-orbiting satellites and departing astronauts have a new source of radiation to contend with. It's right over their shoulder.
Read the original research at Science Advances.
And there's a graphic, which explains it all.
As I scan this and see "killer electrons" and "relativistic electrons", I strain to make a connection to the catholic Left and make some pithy comments.  But, I'm just not up to it today.
Since we are dealing with killers, perhaps we should get Tracer Bullet on the case.
Meanwhile, enjoy the "Tears of St. Lawrence", underway. As well as a nice conjunction of the waxing gibbous Moon with Jupiter near the red giant star Antares of Scorpius: closest approach on Friday 9 August, with Jupiter and the Moon just a few degrees apart. Catch them at twilight.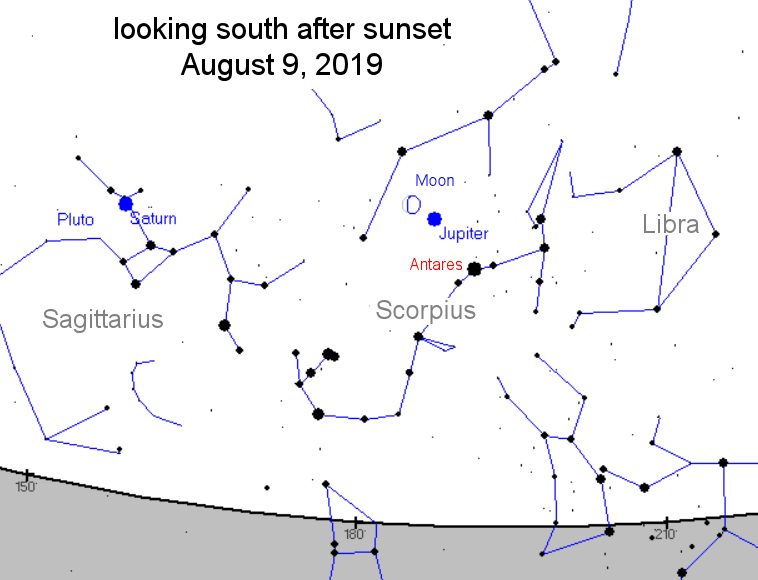 And for you hams… the sun is blank.  Zero sun spots.  147 days of 0 this year so far.
"Antares of Scorpius"?  Where's Tracer when you need him?