Happy Feast of Our Lady of Walsingham to members of the Ordinariate across the Pond.
I heard that the Ordinariates will be meeting in Rome during October.  Hopefully, some of the members who go to Rome will reach out to me. I'd enjoy meeting you.
I'll take this occasion to remind you of the image of Our Lady by the Catholic sacred artist Daniel Mitsui. The 7″ x 10″ print is ready for ordering HERE.
Those saints in the corners are Catherine of Alexandria, Margaret of Antioch and Lawrence of Rome.
From his website:
The print was made on a Heidelberg Windmill press at Rohner Letterpress (Chicago, IL). The printing method involves pressing a piece of paper against a hard plate whose raised surfaces are inked; this is essentially the method invented by Gutenberg that remained dominant until the 20th century. Graphic Chemical & Ink (Villa Park, IL) supplied a traditional printing ink made from linseed oil & furnace black. The paper was handmade from cotton rag pulp at Twinrocker Handmade Papers (Brookston, IN). It is a laid paper, which means that it has a slight ribbed texture, from the wires in the papermaking mould. Laid paper was the only type of paper manufactured in Europe until the mid-18th century.
A few details.
A squirrel!  I hate squirrels, but there it is.
A nice reminder that her shrine is a pilgrimage place.
The Middle English at the bottom is from a 15th c. poem in honor of Our Lady.  You have to go to his site to read that…. yes… just go there.
I have an earlier version of this, on vellum, but he has a reworked it.  The printing is crisp.  It jumps out at you.  Very nice.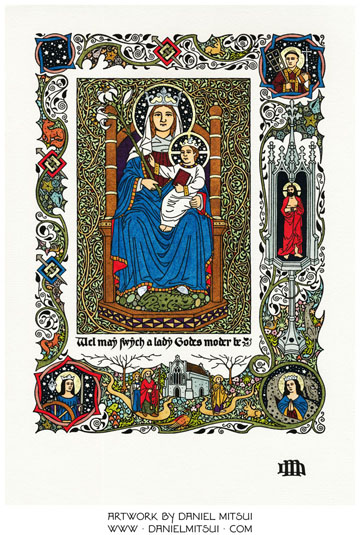 Lot's of stuff to consider… go have a look!
And, because the Feast of the Dedication of the Shrine of St. Michael (Feast of Michael, Gabriel and Raphael) is around the corner, 29 September, I'll remind you of a great version of the Battle of Heaven with the Archangels as Japanese samurai opening a can of whoopass on Ol' Scratch.  Very cool.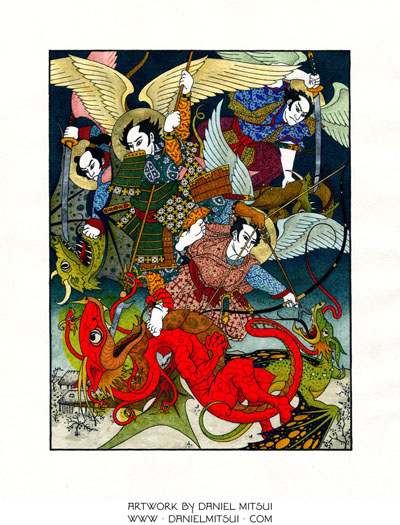 Daniel has some terrific pieces.  Check out his altar cards for the Usus Antiquior.  Check out his Sacred Heart. We had that framed for the new bishop here in Madison, who has a great devotion to the Sacred Heart.