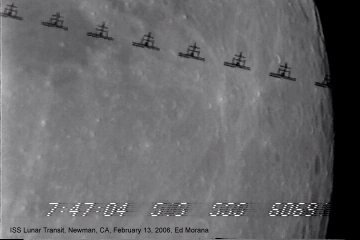 This is from one of my favorite sites: spaceweather.com What we see is a transit across the face of the moon by the International Space Station (ISS) . You can see clearly the solar panels and the body of the station. Very cool. The ISS is going to be passing over North America these days. You can engage a telephone service to phone you before the ISS is suppose to pass over where you live. It is a very interesting thig to see the ISS pass over. With strong binoculars you can get a great view! You just have to know when to look.
Spaceweather also, as you might guess, gives tips about when you might see auroras and other astronomical events.
Great theologians and thinkers of the Church believed that angels guided the heavenly spheres and the objects in them according to God's plan. By studying their movements we could discern something of God's will and plans for us. I don't know about that, but surely God communicates something to us through what we see in the heavens and on earth. Surely these are also part of the "signs of the times" He wants us to pay attention to. If nothing else, the sheer size of the universe we live in gievs us some sense of the infinite grandeur of the Creator.