Vincent was a deacon of Saragossa, Spain. He was arrested with his bishop by Dacian, governor of Spain around the year 304. Vincent was tortured for refusing to offer sacrifice to pagan gods or hand over sacred books. He was imprisoned, starved, racked, burned on an iron grate and torn with iron hooks. He then converted his warden and died from his wounds.
The mighty St. Augustine write of the Spanish martyr Vincent in ep. 276. Let's taste a bit of this letter.
2. The world mounts a two-pronged attack on the soldiers of Christ. Notice carefully, brothers and sisters. It's a two-pronged attack, I repeat, that the world mounts against the soldiers of Christ. It wheedles, you see, in order to lead them astray; it terrifies, in order to break them. Let us not be held fast by our own pleasures, let us not be terrified by someone else's cruelty, and the world has been vanquished. Christ runs up to defend each approach, and the Christian is not vanquished.

If, in this passion of Vincent's, one only gave thought to human powers of endurance, it begins to look unbelievable; if one acknowledges divine power, it ceases even to be wonderful. Such hideous cruelty was being unleashed on the martyr's body, and such clam serenity being displayed in his voice; such harsh, savage punishments being applied to his limbs, such assurance echoing in his his words, that we would have imagined that in a marvelous way, while Vincent was suffering, it was someone else, not the speaker, that was being tortured.
Let us now fast forward many centuries to the present age.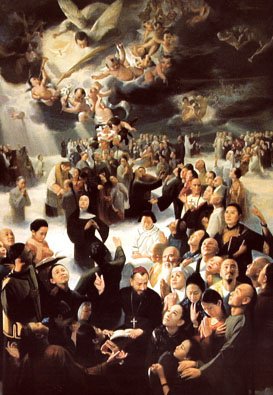 In the recently published Il Libro Rosso dei Martyri Cinesi… The Red Book of Chinese Martyrs (Milano: Edizione San Paolo, 2006) there are recounted the first person accounts of the sufferings of Chinese Catholics under the Communist regime. Here is a very brief excerpt in my translation from the memories of Fr. Tan Tiande, from the warm south of China, sent to the frozen north for decades of forced labor and "reeducation". Even in the midst of terrible abuse in prison, Tiande never stopped bearing witness to his faith in God. His tormentors cracked down (p. 40):
"My crime was my conduct: preaching religion accounted as little my sentence. Given that this was the worse crime you could be accused of, I was dragged into a public gathering to be criticized and denounced as guilty. I was the "leading man", the object of criticism by my companions.

The "director" had bound my hands behind my back. The "make-up man" had hung a square sign around my neck which also hung down behind my back. The "director" led me onto the stage and read my crime to the public: frequently preaching religion in prison with no sign of penitence. The sentence was for life. When the sentence was pronounced, they made me lie down on the ground in front of the thousands of people there watching the show. My legs were extended behind me and they bound them around with chains weighing many kilos. In that moment I felt the roar of the throng before the stage. I don't recall even a single word of what they were shouting. I only know that I was at peace.

"Still believe in God?", the party functionary sneered with his mouth curled.

"Why not?" I responded.

"Since you believe in God, why doesn't he come to save you?", he said to toy with me.

"God is free to save me or not. Whatever happens, I believe in him firmly."

"Try a little taste of these chains on your legs", he said. And he left.