I tip my biretta to MG who alerted me to the differences in the wonderful John XXIII cope used by His Holiness Pope Benedict XVI for the 1st Vespers ceremony the other day.
Here is the cope as worn by Pope Benedict.
Here is the cope worn by Pope Paul VI.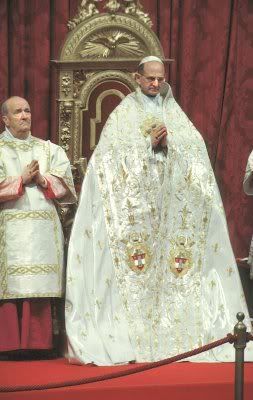 Notice anything different?
Keep in mind that Pope Paul was fairly tall, and Pope Benedict is not. Also, remember that the cope is generally help up by deacons when moving, so the length was not a problem for either Paul or Pope John.