At the blog The Art of Manliness I was pleasantly surprised to see the image of a priest in a biretta.
Here is some of the entry, but I have bulletpoint-ized the headings.  You'll have to go there to find out about them.
Emphases added: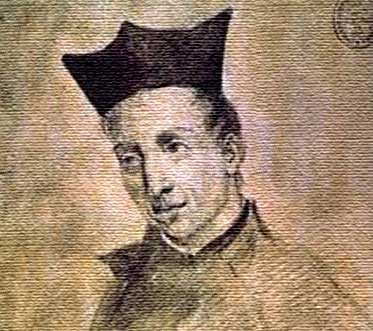 Back when I was in high school, a mentor of mine gave me a copy of a small book that I've read and re-read several times over the years. The Art of Worldly Wisdom or The Pocket Oracle and the Art of Prudence, [KINDLE HERE for $0.99.  UK HERE.] is a book of 300 maxims and commentary written by a 17th century Jesuit priest named Baltasar Gracián. Considered by many to be Machiavelli's better in strategy and insight, Gracian's maxims give advice on how to flourish and thrive in a cutthroat world filled with cunning, duplicity, and power struggles, all while still maintaining your dignity, honor, and self-respect. In many ways, The Art of Worldly Wisdom is a how-to book on fulfilling Christ's admonition to his apostles to be "cunning as serpents and as innocent as doves."  Philosophers Schopenhauer and Nietzsche both admired Gracian for his insight, subtlety, and the depth with which he understood the human condition.

While Gracian's maxims were directed to men trying to gain favor in the dog-eat-dog world of 17th century Spanish court life, they're just as applicable to a 21st century man trying to both succeed in a hyper-competitive globalized economy and develop an upright, heroic character. Taken together, Gracian's frank, incisive maxims are reminders of the power of living with sprezzatura and that practical wisdom–the ability to do the right thing, at the right time, for the right reason—is essential to success in life. Below I highlight a few of my favorite Gracian maxims. I highly recommend that you pick up a copy of his book with all 300 nuggets of wisdom and keep it on your nightstand. It's a great little book to flip through and read in spare moments. You'll be a better man for it.

Maxims of Baltasar Gracián

In your affairs, create suspense.
The height of perfection.
Don't arouse excessive expectations from the start.
Never exaggerate.
Never lose your self-respect.
Never lose your composure.
Don't be uneven, or inconsistent in your actions:
Choose a heroic model, more to emulate than to imitate.
Understand yourself:
Don't hang around to be a setting sun.
Get used to the bad temperaments of those you deal with, like getting used to ugly faces.
Never complain.
Avoid familiarity when dealing with people.
Know how to appreciate.
Undertake what's easy as if it were hard, and what's hard as if it were easy.
Take a joke, but don't make someone the butt of one.
Carry things through.
Don't be carried away by the last person you meet.
Go with the flow, but not beyond decency.
Act as though always on view.