This is very cool.  Fr. Z kudos to the one who came up with this.
From KATC TV in the Diocese of Lafayette.  Someone converted an ambulance into a mobile confessional.    Be sure to watch the video.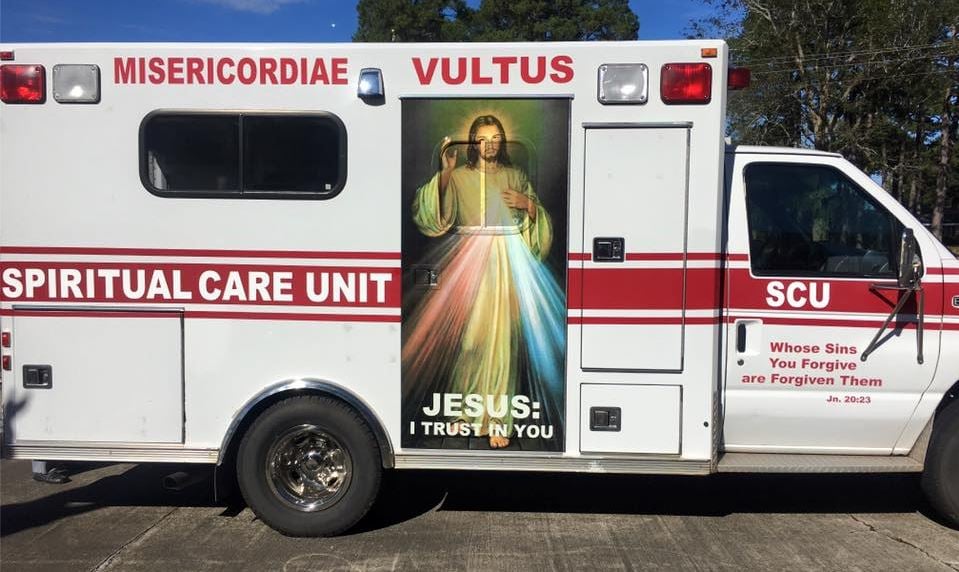 TEXT:
LAFAYETTE –
The Lafayette Diocese has created a new and easier way for outreach with the Catholic Church.
They've converted an old ambulance into a mobile confessional called a spiritual care unit. With a  picture of Jesus and Bible verses on the side, the new unit is for spiritual emergencies, specifically remodeled for prayer and confessions.

"It's a way that we can give some pride and public expression of our Catholic faith that is not just meant for the walls of the church, but on the streets," Father Michael Champagne, a priest at Lafayette Diocese, said.

The unit is  part of Pope Francis' Year of Mercy that begins on December 8. Thanks to an anonymous donation, it took two weeks to complete the unit that Champagne calls a church on wheels.

"We need to go to where people are. People come to the church as a center of worship and pray, but we also have to do outreach," Champagne said.

Not only is the vehicle a way to bring more people to the Catholic church, but it makes going to confession easier for people with busy schedules.

"Pope Francis is asking us to go out of to the peripheries of the church and now we have the means to do that," Bishop Michael Jarrell said.

Inside the unit there are Bibles, rosaries and even holy water. It's fully equipped to spiritually care for others.

"There's no sin in the world that's too big for God's mercy," Champagne said. "We want to extend and preach the gospel of mercy to our people."

The spiritual care unit will make stops around Acadiana beginning on December 8, for the beginning for the holy year of mercy.
I can see racing about… lights flashing… dashing to hear confessions as the rest of the team piles out to stop liturgical abuses!
From FLFY:
And now…. GO TO CONFESSION!