There's tinkeritis with liturgy and tinkeritis with creches.  They seem to be symptoms of the same mental, spiritual malady.   Is it hubris?
What is it with the desire to tinker with Nativity scenes?
I fully understand the desire and attempts of true artists to portray the mysteries of the Lord's life in paint and sculpture.  Our museums are full of these, some good, some great, some magnificent.  And then there's the gimicky and the unworthy.
From Church Militant and St Louis Post Dispatch:
Really?
Church Militant says:
An Illinois Catholic diocese is displaying a "Hipster Nativity" scene showing a skimpily clad Mary, with Joseph taking a selfie with the Baby Jesus.

The Nativity is one of about 60 on view in the "Nativities From Around the World" display in the Catholic Cathedral of St. Peter. The créches come to the Cathedral from the University of Dayton's Marian Library, a Catholic college, which has collected more than 3,500 nativities from over 100 countries since 1998. The Hipster Nativity was built in 2016 and, in addition, showing the Holy Family as millennial caricatures, it also depicts the Three Wise Men on Segways holding Amazon Prime boxes and a "100 percent organic" cow eating gluten-free feed.

Church Militant spoke with Msgr. John Myler, rector of the Cathedral, about the modern créche, who justified it by insisting that "most nativities will have the flavor and or the costume or the culture of the people."

Bob Baker, a parishioner, spoke to Church Militant, mentioning his "conversations with the Chancery office and the statements from Msgr. Myler," who explained that the purpose of the Nativity "was to make it relevant to the school children."
What makes that "relevant"?
And there's the really strange nativity scene this year in St. Peter's Square.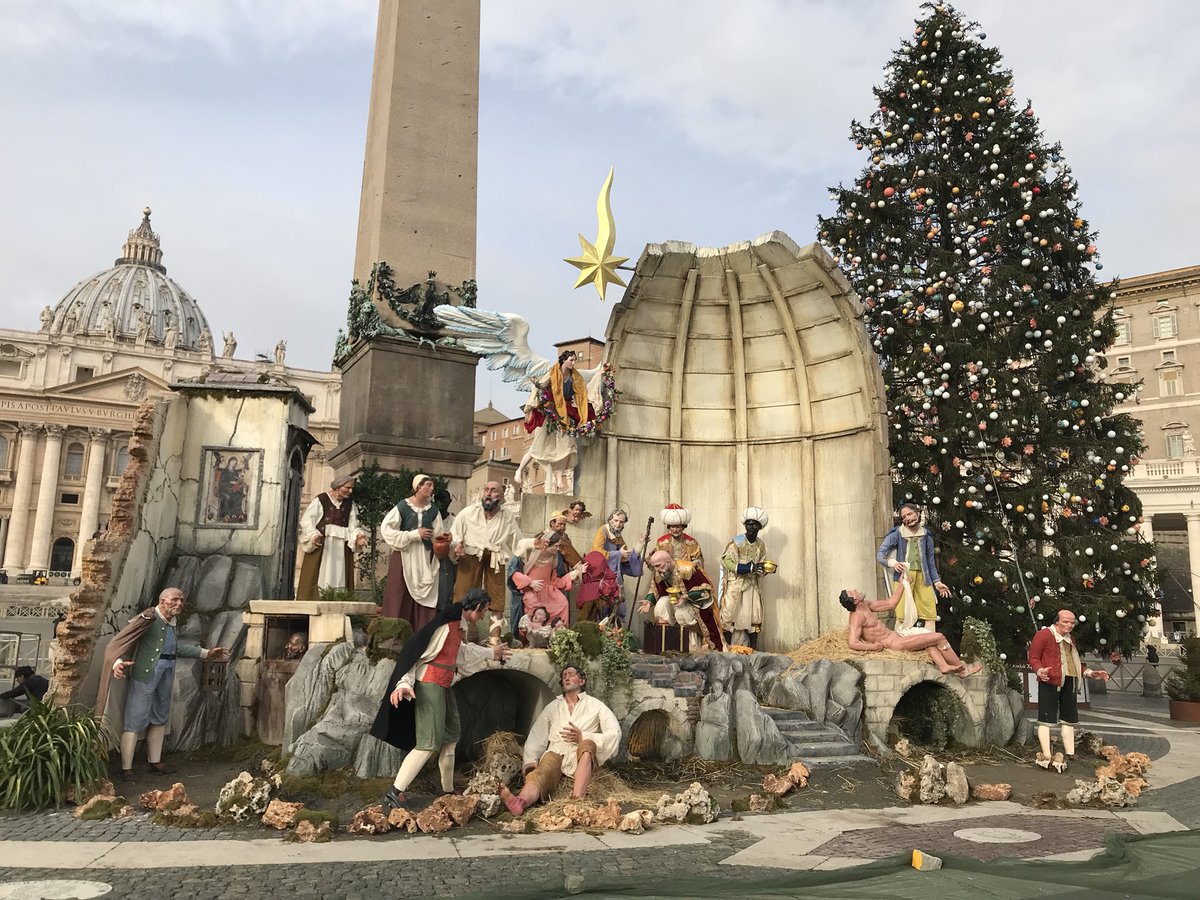 Apart from the controversy about the naked guy at the right side, who thought that this composition was in any way coherent?   First… find the Holy Family.   Okay… got them yet?  The other figures are suppose to portray corporal works of mercy.  Got it?  Merrrrrrrcy.    The addition of "bury the dead" was especially appropriate for the Nativity scene.
Clever, right?  It's soooo profound.
And relevant!
However, I don't believe that the spiritual works of mercy were included.
You remember, those, right?
admonish the sinner
instruct the ignorant
counsel the doubtful
comfort the sorrowful
to bear wrongs patiently
to forgive all injuries
pray for the living and the dead
I am not sure that all of these are in vogue any more.