There has been discussion of the biretta lately, around this blog…. real birettas and photoshopped.
Also, the other day when I was tidying up an older foldable biretta I can put in a travel bag, I decided to remove the pompom. It had started to look a little desperate and the Roman style is nothing to cross your eyes at.
That choice and all this discussion of the superbly useful clerical cover raises a burning issue for our time.
Do you prefer the biretta with or without the pompom?
Without a pom pom is the more Roman style. You see that Cardinals have a biretta without. They are clergy of Rome, so to speak, no matter where in the world they are lent out.
The pom pom is more a French use, as I understand it.
There is also the eccentric tassel, a variation of the pompom which I choose to keep separate now, because it is a little strange.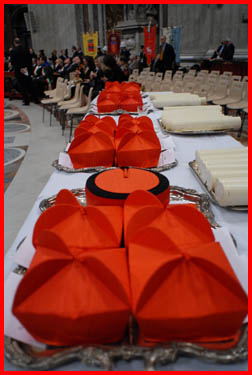 The biretta developed from softer hats which eventually developed these "points" as they were pinched for uncovering and covering. They have a historic connection with academic and magisterial head gear, mortar boards and the like.
Birettas, which were obligatory for Mass, are also used outside liturgical occasions. For example, a priest's academic headwear is the biretta trimmed with the color appropriate to his field, red for philosophy, blue for theology, green for law, etc.
They can have three or four points, depending on circumstances not entirely relevant here.
They keep your head warm too.
So, what will it be? Pompom? None? Cheer on your choice and give your reasons below.
POLL CLOSED
Which style of priest's biretta do you prefer?
Without pompom, in the Roman manner (52%, 838 Votes)
With pompom, in the French manner (41%, 662 Votes)
Tassel … and, yes, I am ecentric. (6%, 97 Votes)
Total Voters: 1,597