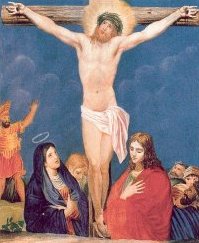 From a reader:
Last night the family that I live with recited the Stations of the Cross together in our home. At the end, we prayed for the intentions of the Holy Father and had a discussion about eternal/temporal punishment, indulgences (especially plenary ones), the requirements for obtaining them, and the ability to apply indulgences to the Holy Souls.

I decided to do a little research so the children would know about other indulgenced works. I found a great deal of information. Included was information about the indulgence for making the Way of the Cross. In the list of norms to gain the plenary indulgence it says, "The pious exercise must be made before stations of the Way of the Cross legitimately erected".

My question: What does it mean to be legitimately erected? Could we, in the house, hang 14 crosses, and make the Way of the Cross by processing with these? Or does this mean that we would need to go to a church and use stations that have been installed and blessed?
First, I am very glad that you have done this with your family. You are to be commended. I am reminded of the scribe who brings forth things both old and new.
The Handbook for Indulgences is the book issued by the Holy See containing the norms for indulgences, what some of the prayers and works are and what the conditions are.
A plenary indulgence can be obtained by making the Way of the Cross on Good Friday even through televised participation for the Holy Father's Stations.
Otherwise, this devotion at other times must be made before Stations of the Way of the Cross legitimately erected. That means that a bishop or his delegate is to have established them in the place, usually a church or chapel or perhaps cemetery or other outside place such as a retreat house. The bishop, etc., then provides a document that this was done. Usually a document like that, often in Latin, can be found hanging on a wall of the sacristy, unless in ignorance it was taken down.
When Stations have been duly erected, they are symbolized or "located" with a Cross on the wall or perhaps outside with a standing structure. There is often a picture or statue group, etc. There are 14 Stations. Movement from one station to the next is required when you do them as an individual. If the Stations are a public event, then just the person leading them needs to move from station to station.
The Handbook indicates that this is also vocal prayer. By custom some "preces vocales" are added. I suppose that might only be "Lord Jesus Crucified, have mercy on us." Also, the Handbook says that there is flexibility about the mysteries considered.
It may be that some people are prevented from going to a church or place where there are legitimately erected Stations. In that case a person can still gain the indulgence by spending at least one half hour meditating on the Cross and death of the Lord.
Eastern Catholics, who don't have this custom of the Way of the Cross, can also gain an indulgence according as their respective patriarchs determine.
So… to the questions.
Yes… Stations must be formally set up as I described. If you were to go to church with your family, you would all together move from station to station…. which would be a beautiful thing to see, actually. If you were legitimately impeded from going to church, say there was a blizzard or someone at home who was ill who needed care, you have an alternative.
I don't think "Well, I don't want to drive for 10 minutes." is legitimately impeded. But what that means is hard to say. I tent to be on the lenient side with these things, for surely Holy Church wants people to be able to gain the indulgences without an undue burden. It must cost us something, of course. But that will vary. A young person can get to church easier than an old lady with cane during winter.
Remember also that there are conditions for gaining any plenary indulgence. In addition to the work performed you must be free of attachment to sin. Meditation on the Cross and death of the Lord should help this resolve.