On a lighter and more immediate note: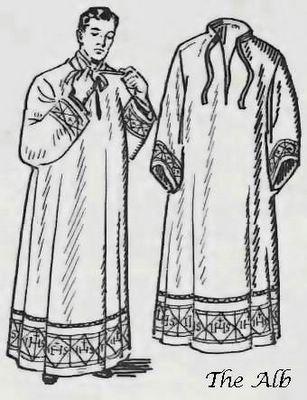 Is it allowed or recommended to starch an alb? The priest that says the EF Mass for us needs help with the cleaning, mending, etc. of his albs and other liturgical garments. I would like to do things properly and am not sure where to get information on the proper care of liturgical garments.

Thank you for any input, and thank you for your blog, I visit it every time I have time to access my computer.
You are welcome.
I am only a reluctant commenter on anything having to do with laundry.
I will direct you first of all to consult a useful little booklet put out by our friends at Angelus Press, which I reviewed here.
I can say that I appreciate some firmness to the fabric. There are few things in life as since as a well starched shirt. That goes for properly starched altar linens when you are at the altar. And an alb that is well-prepared is part of how we give glory to God.
Fabrics for albs will differ and so how you use starch will differ. I am not sure what to do about pure linen, for example. And I suspect you ought to avoid lace and embroidery.
I think I better defer to the ladies of the WDTPRS Altar Guild now, and back slowly, with a big grateful smile, out of the room….
backing….
smiling…
backing…
…closing the door.
click