From a reader:
We have a sung Sunday Mass celebrated in the Extraordinary Form at a local parish. The priest who says the Mass is not the pastor, but a diocesan priest who says Mass in both forms of the Roman Rite. He was invited to say the "old" Mass there at the invitation of the bishop and welcome of the pastor.

It has come to my knowledge that this very wonderful priest keeps the hosts that are consecrated at the Mass in the Extraordinary Form separate from those consecrated at Masses in the Ordinary Form, so as to not risk upsetting some of the faithful attending the "old" Mass.

I find this extremely troubling, as it seems to send the wrong message. Instead of catering to some misconceptions (and heresy), wouldn't good catechesis to the faithful in question be in order?
Yes, catechesis is in order. However, some people are never going to be convinced because they happy only when th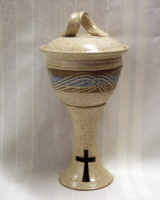 ey are unhappy.
I find it absurd to separate Hosts in that manner.
This sort of thing is fueled the handful of people who think that the consecration during Holy Mass celebrated with the Novus Ordo is invalid, or perhaps the priest was not validly ordained if he was ordained in the newer rite.
Both the consecration in the Novus Ordo of Mass and ordination with the post-Conciliar rite are valid.
Transubstantiation takes place during both forms of Holy Mass.
There is not "more" Jesus in a Host consecrated at one form of Mass than at another.
It could be that the pastor who makes a decision to separate the Hosts in different ciboria simply doesn't have the energy to deal with the troublemakers.
However, it think it is an imprudent thing to give in to that sort of thing.