I read a truly fascinating post at the blog of the British Library for Digitised Manuscripts.
It is about medieval trope of the Three Living and Three Dead.
Given the time of year this is, it is appropriate and helpful!
Excerpt:
The precise origins of the Three Living and the Three Dead are still somewhat mysterious, but there are many versions of the tale dating back to the 13th century, with the best-known coming from England and France.  The basic version of the story goes like this: three young noblemen are out hunting when they suddenly come across three corpses, which are in varying states of decay, but nonetheless still animated.  Unsurprisingly, the young men express shock and dismay at the sight, while the three corpses admonish them to consider the transience of life and to improve their behaviour before it is too late.

The dialogue between the two groups is sometimes explicit, as in the relatively early example above from the early 14th century De Lisle Psalter (Arundel MS 83).  Beneath a miniature of three kings encountering three corpses is an abridged version of the Anglo-Norman poem Le dit des trios morts et trios vifs which describes the ensuing conversation.  Interestingly, above this double-register miniature is a series of inscriptions in the English vernacular, giving additional voice to the characters.  The Three Living cry out: 'I am afraid' (Ich am afert), 'Lo, what I see!' (Lo whet ich se), and 'Methinks these be devils three' (Me þinkes hit bey develes þre).  And the Three Dead reply: 'I was well fair' (Ich wes wel fair), 'Such shall you be' (Such schel tou be), and 'For God's love, beware by me' (For godes love bewer by me).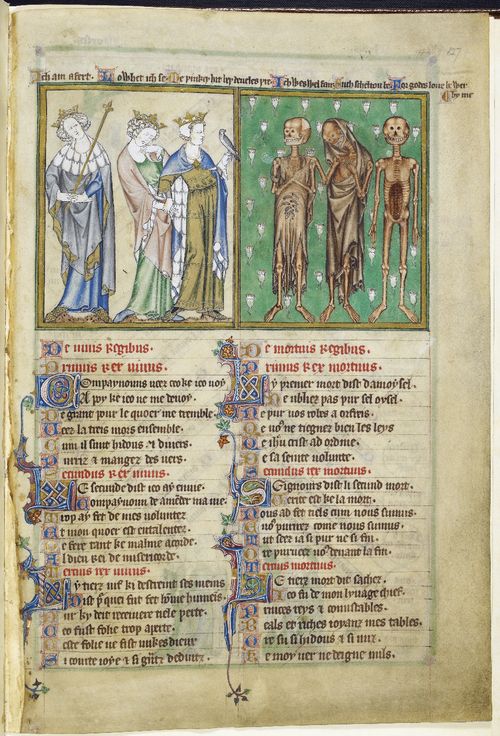 This is very cool stuff.  There's even dialogue.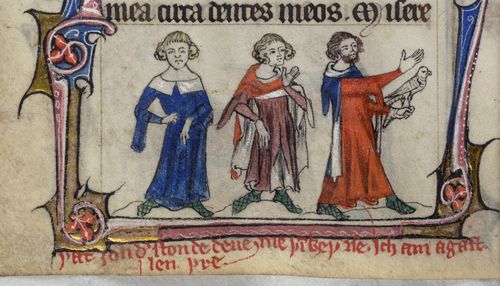 I had the image of this being made into a kind of Morality Play with music by… James MacMillan?
Otherwise… I'll bet that this could be worked up into a, say, play for a Catholic High School.  After all… there are lots of zombie costumes available right now.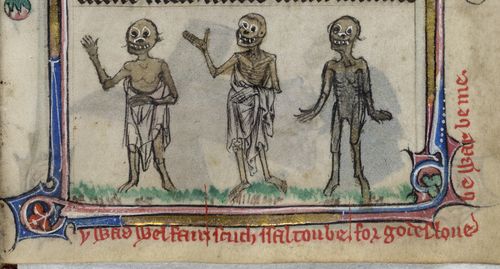 Funny!  Right?
Or… not.
PS: I am still hoping that MacMillan will set to music the poem by Gerard Manley Hopkins: The Leaden Echo and the Golden Echo.
Finally, everyone… you are all going to DIE!
So,…
GO TO CONFESSION!