I have been saving this up for a while to protect someone.
A seminarian once sent me some materials distributed by his loony liturgy prof at a major US seminary. That prof has spent some time to rebut my own claims in the print version of the WDTRS in The Wanderer (found each week in that seminary's library) about the true meaning of "active participation". Most liturgists and clergy will automatically tell you that "active participation" means that people have to be doing stuff, otherwise they are merely passive spectators. I and a few others have pretty dismantled that specious but dominant claim, which through continued misinformation persists even today. I thought it high time to offer some direct comments in this blog. The seminarian who first sent me the amusing materials of the loony prof is long ordained now, so there is no longer any concern about retribution aimed at the seminarian on the part of the seminary faculty.
In this WDTPRS series we often address the concept of actuosa participatio or "active participation." It has been stated that in Latin there are more than one word for what comes into the English with the single word "active". I have argued with others that the use of "active" to translate actuosa has contributed to the ubiquitous confusion reigning in liturgical circles about what the Council really desired for the faithful. Today "active participation" nearly always means that everyone must sing everything, carry stuff, clap their hands, etc. I say that what the Council really wanted was first and foremost a lively interior and spiritual participation and as a result of that an outward expression of participation. I have stated that actuosa conveys a more interior sense. The Council Father's could have used the word activa conveying a more exterior participation. In short, what the Church really means by "active participation" is an "active receptivity" that has nothing to do with either being passive or with being busy at Mass.
In the materials the seminarian sent me, especially a handout their loony liturgy instructor distributed, it was argued that exterior active participation was the first and primary thing that the Council Fathers were after. The prof observed first that the Council's document Sacrosanctum Concilium never employs the term participatio activa. That is correct, of course. And he was correct that the use of actuosa rather than activa is very significant regarding the sort of participation the Fathers desired for "the people".
The loony prof moved into a philological argument based on the Oxford Latin Dictionary and Blaise's Dictionaire Latin-Français des auteurs chrétiens. Mostly based on Blaise, he tries to support his case that actuosa indicates essentially the outward participation that involves singing everything there is to sing, clapping, carrying things around, etc.
Citing Blaise the prof wrote that the adjective actuosus is (and he used the French here) "'comme actualis qui consiste dans une activité exerieure. (Opposite à theoreticus)' 'like actualis which consists of a exterior activity"- cf. Blaise, p. 46) and that 'actiuus (activus) 'actif (Gk. praktikós) qui consiste dan l'action' ('which consists of an action'- cf. Blaise p. 45).'" [The prof's punctuation was a nightmare. I am trying to tidy it up at bit.]
The prof stated that participatio actuosa "must be translated as: 'participation in a form of exterior activity that is full of action; – energetic or busy participation; – active exterior participation involving (even extravagant) gestures; participation in the sense of doing the rite…. [The Council] does not refer to participation that is merely or virtually only interior, although the document makes clear that such interior participation is also essential. What is called for is participation that is both interiorly active and exteriorly energetically active." (My emphasis added.)
So, in short the prof thought that because of the dictionary entries in OLD and Blaise actuosa means exterior and outward participation then that is in fact what the Council Father's really meant by "active participation".
I respond saying that, first, that of course the Council desired exterior participation. However, interior participation is more than "also essential", it is the sine qua non of participation. Participation, moreover, is founded on one's baptismal character. More on this below.
Here is the problem with what the prof wrote from the philological point of view. Begin with the fact that the OLD is a narrowly classical Latin dictionary, extending to Latin until A.D. 180. It would have helped to consult also a dictionary like the esteemed Lewis & Short which covers a greater range of dates and authors. L&S extends to late antiquity up to A.D. 600. Still, we need to figure out what the Council Father's thought actuosa meant, not classical, late-antique or medieval authors, though they too are helpful. Still, let's stick with the dictionary, so as to bring the philological argument to rest.
In the L&S actuosa means "full of activity, very active (with the accessory idea of zeal, subjective impulse; differing from industrius, which refers more to the means by which an object is attained." The adjective actuosus, a, um (and thus the adverb actuose) is contrasted with industrius which etymologically is founded on struo ("to build") and means "active, diligent, assiduous, industrious" referring to activity of a more physical and external nature. On the other hand activus, a, um (the word not chosen by the Council Fathers to describe participation) is an adjective from ago ("to do, make").
In philosophy, (not philology) philosophia activa refers to the practical, in contrast to philosophia contemplativa. NB: activa is contrasted with contemplativa. Activus contrasts also with spectativus ("speculative"). Activus and actuosus have connotations respectively of outward, practical activity on the one hand and, on the other hand, lively interior and spiritual activity. Make it simple. Activus = exterior. Actuosus = interior. This is why the Council Father's chose to describe their goal of "active" participation as actuosa.
Mind you, this is all very inexact. The same Latin word can have a variety of meanings in differing contexts, just as English words. There is no precise one to one signification when carrying the concepts of one language into another. However, we don't have to rely solely on the one word, actuosa to get at what the Fathers wanted. We can look back through the body of liturgical documents from before the Council also to see how the Church was thinking as they began their deliberations.
Background: In 1903 St. Pope Pius X issued a Motu Proprio called Tra le solicitudini on the renewal of sacred music. Pius X wrote, "In order that the faithful may more actively participate in the sacred liturgy, let them be once again made to sing Gregorian chant as a congregation." The same Pope all promoted more frequent Holy Communion. So, near the beginning of the liturgical movement, the Roman Pontiff wanted to get people engaged, especially through singing and reception of the Eucharist. In 1928 Pope Pius XI in his Apostolic Letter Divini cultus essentially repeated what Pius X had said. In 1947 Pope Pius XII in Mediator Dei used this phrase with essentially the same meaning. Until the Second Vatican Council, "active participation" referred to the congregational singing of Gregorian chant. This all sounds very exterior, right? Everyone singing?

But wait, there's more. In the Sacred Congregation of Rites instruction De musicam sacra 22, c): "Active participation (actuosa participatio) is perfect when 'sacramental' participation is included. In this way 'the people receive the Holy Eucharist not only by spiritual desire, but also sacramentally, and thus obtain greater benefit from this most holy Sacrifice'." This cites "Council of Trent, Sess. 22, ch. 6; cf. also Mediator Dei: AAS 39 [1947] 565: 'It is most appropriate, as the liturgy itself prescribes, for the people to come to holy Communion after the priest has received at the altar'."
It looks like was have come full circle with St. Pope Pius X's projects including participation at Mass including more frequent Communion.
This is very important. Active participation is "perfect" in the form of reception of Holy Communion.
Going on, you all know that the Second Vatican Council's document Sacrosanctum Concilium 14 said "Mother Church earnestly desires that all the faithful should be led to that full, conscious, and active participation in liturgical celebrations, which is demanded by the very nature of the liturgy." The key words are "full, conscious, and active participation." The Latin for "active participation" is actuosa participatio.
Problem: Council Father after Council Father during the Council itself warning in their relationes against any interpretation of liturgical participation which would reduce participation to merely or primarily outward activity. If you consult the Acta Synodalia Concilii Vaticani II (Roma, 1970) you find the speeches. Just for one example of a famous American (since the seminary prof and seminary in question are in the USA), Francis Card. Spellman cautioned saying "cavendum est a mera divulgatione et participatione tantum externa" which even those capable of only Latin baby talk know is a warning against mere popularization and only external participation (Cf. AS I/1, 305 and 316). Examples can be multiplied.
Let's get theological.
By our baptism we are able to participate in the Mass with "full, conscious and active participation" as is explained in Sacrosanctum Concilium 14. Msgr. Richard J. Schuler sums up the points well in the Winter 1987 issue of the periodical Sacred Music: "The word 'full' (plena) refers to the integrally human fashion in which the baptized faithful take part in the liturgy, i.e., internally and externally. The word 'conscious' (conscia) demands a knowledge of what one is doing on the part of the faithful, excluding any superstition or false piety. But the word 'active' (actuosa) requires some greater examination."
Let's put things together now.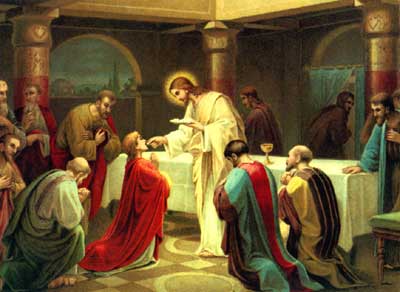 By actuosa we mean primarily that interior receptivity which comes from the baptized person making an act of will to unite himself with the sacred action being wrought in the liturgy by the real "actor", Jesus Christ the High Priest. This actuosa ("active" in an interior sense) is distinguished from activa ("active" in an exterior sense).
What the Church wants for us first and foremost is the interior participation, founded on our baptism, which integrates the whole human person and then comes to be expressed also in activa participatio.
This is all manifest in what happens during Mass. For example, we are actively receptive to the proclamation of the Gospel. We are not asked to read it aloud together with the priest. At the offertory there is a procession of gifts to the altar. Not everyone in Church comes to the altar. Everyone is then called upon by the priest, who as alter Christus is the Head of the Body of Christ gathered there, to unite their offerings and spiritual sacrifices to his. This they do interiorly, with an act of will, not by physically going up and grabbing hold of the chalice, etc.
Moreover, there is nothing passive about truly listening, either to the readings, music or prayers of Mass. As a matter of fact, listening with mind and will engaged is very difficult and very active indeed. You can do stuff, sing, even try to read with your mind a million miles away. Being truly actively receptive is tough. What happens at Mass must therefore engaged us interiorly, not merely get us doing things, things which might actually be distracting us from what the true divine Actor is doing in the actions of the Mass and the texts the Church gives us.
Being actively engaged with the action of the Mass so as to be receptive to its fruits is true active participation. This comes to be expressed outwardly and physically at the proper times, as for example when people are making the responses that pertain to them, or when some of the sacred ministers, representing everyone, serve physically at the altar or sing in the choir, etc. Moreover, it is by our interior baptismal character that true interior active receptivity can take place at all. A Moslem who comes to a Catholic Church can carry stuff, sing, clap and do stand-stands for what's its worth, but he receives none of the graces that the baptized deaf woman in her wheel-chair receives because she is truly "there" in heart, mind and soul. Ultimately, the perfect form of active participation is the active receptivity of the Communicant in the state of grace at the moment of reception of the Eucharist. Here the baptismal character, heart/mind/will, and ourward physical action form a "perfect storm" as it were of "active participation. This is perfect "active receptivity".
This all has implications for everything which is chosen for the Church's sacred rites and worship. Proper understanding of active participation as "active receptivity" the perfection of which is reception of Holy Communion in the state of grace, must have an impact on choice of music, placement of choirs, organization of processions, how the reading are handled, use of vestments, organization of the sanctuary, and nearly everything else you can think of about Holy Mass.