Over at the amusing and often useful blog Art of Manliness there is a post about Memento Mori art.
"Memento mori!" means, "Be mindful of death!" or "Don't forget that you are going to die so repent, confess your sins, and live a virtuous life!"
Here is a shot I took recently of a well-known sight in the Via Giulia in Rome (which I will probably see again soon).
Today, it's my turn.  Tomorrow, it's yours.
There are some good images over at the aforementioned blog.  Check them out.
The "Memento mori!" theme is often connected with the vanitas vanitatum theme in art, depicting the passing things of this world.  Even in many still life paintings (in Italian natura morta) there will be perhaps rotting fruit or wilting flowers.  They often aren't in the painting merely so that the painter can show off his technique.
Treasure up your treasure in heaven, friends, and never put any created thing – even a person whom you love – on the highest throne of your heart.  God alone cannot be lost. In the hierarchy of our loves, God must have the highest place.  Only when God has the highest place in our lives can all our other relationships be rightly ordered.  This is why what we owe God by the virtue of Religion is so important.  This is why without a revolution in our liturgical worship all the initiatives of a new evangelization will far short.
Remember that you are going to die. You too, you Fishwrap editors, writers, readers. You too, you Tablistas.
So…
GO TO CONFESSION.
Ask yourself.  Is it really worth it to delay going to make a good confession?  Really?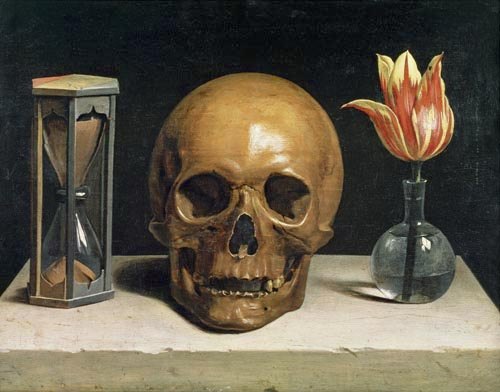 As you look at the image, list, O list, to Liszt:
[wp_youtube]GBXA1tBiLw[/wp_youtube]