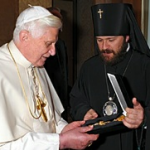 Benedict XVI was the Pope of Christian Unity.
He changed the course of ecumenical dialogue.
His efforts to bring our liturgical worship back onto the rails impressed many among the Orthodox, including the Patriarch of Moscow.
Now I read on ANSA (the Italian news service – my trans.):
"It is very probable that the new Pope will be Italian, as before John Paul II": that is the prediction confided to the Russian state TV Vesti 24 by Metropolitan Hilarion, head of the Department for Foreign Ecclesiastical Relations and Patriarch of Moscow, according to whom there are about 10 "papabili" Cardinals.  Among them are Gianfranco Ravasi, Angelo Scola and Angelo Bagnasco, in addition to the cardinals of Budapest, Austria, USA, Canada, and Argentina.  "I hope the new Pope is a traditionalist", he concluded.
So do I!
None of the men mentioned above would fit Hilarion's description of "traditionalist", in the sense I think the Russian means.  However, I think Card. Scola – who had an Eastern ecumenical initiative in Venice – could be close.   Closer would be Card. Burke or Card. Ranjith.