And you can't even get a cheap drink to dull the pain….
B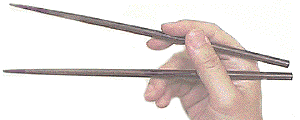 EIJING, China (Reuters) — China will slap a tax on chopsticks and a range of goods ranging from yachts to petrol in a bid to save trees and protect the environment.
Plans to impose a 5 percent consumption tax on both disposable wooden chopsticks and wooden floor panels would help curb the plundering of timber resources and efforts to protect the environment, the Ministry of Finance said.
Disposable chopsticks used up 1.3 million cubic metes of timber each year, depleting the country's forests, the ministry said.
…
China's most common hard alcohol, known as baijiu, would be taxed at a flat level of 20 percent for the first time, it said.
In case you don't know what that stuff is… báijiÇ" or ç™Â½Ã©…' is high percentage a white spirit (as the name implies). Sometimes in Chinese film or in writing in English you will see this mistranslated as "wine". Wow, is that a mistake. BáijiÇ" is often made from sorghum and it can be pretty nasty stuff. In the past it has been really cheap, but now….
The Chinese often would play drinking games involving the rapid recitation of number phrases, etc. The loser had to drink up, which could be fairly crippling.