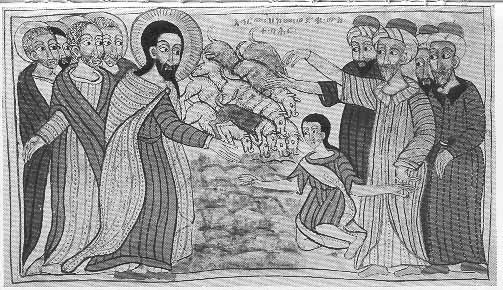 In every day and age people make attempts to figure out the "deeper meaning" of the events related in Holy Scripture. Today in the Gospel reading for Holy Mass we have the episode of the Gadarene (or Gerasene) demoniacs (Matthew 8:28-34).
Cyril of Alexandria (+444) has a nice riff on the Gadarene scene (Frag. 101 – NPNF 1 10:191):
The divine nature of the only begotten Son was already scorching the demons in unspeakable flames. Christ was shutting up the fiercest demons in blocked roads. He was undoing the devil's tyranny. "You have come before the time," they cried out. For they knew from the Scripture that Christ was going to come and would judge them. Treating the incarnation as if it had happened at the wrong time, they pled that He had come in an untimely way. This misrepresentation is not surprising. In their deceptiveness, they did not hesitate to say even this. Yet, although they know that vengence is to fall upon them, they still say haughtily, "What have you to do with us?" They know that the final Judge in fact has a score to settle with them, inasmuch as they had broken His comandments.
Let us not forget that even though Christ is risen and victorious, this world still has its prince. This is the enemy of our soul.
The malice of the fallen angels is so great that they will overcome the agony they experience in the present of the sacred, just for the opportunity to trip us. Enduring the terror of the Presence of the Blessed Sacrament itself, they will attack you at Mass. They will defy the sacraments and sacramentals just for a chance to bring you down a notch, if not entirely. Be always wary of the enemy.
Do not forget that demonic possession and oppression are REAL phenomena.
When you are at Holy Mass, remain always aware of the glory of the sacred mysteries and that you, because of your saving baptism, can be a true and active participant.