Today's prayer is unchanged from the Veronese Sacramentary and the Gelasian and so-called "Gregorian".
It was in the 1962 Missale Romanum too. It was the used on the 8th Sunday after Pentecost. I cannot fathom why the redactors of the Novus Ordo thought there were not enough ancient lenten prayers in the available venerable sacramentaries.  I wasn't consulted.
In our prayers this week we find a theme of the mind developing. We have seen a mens / corpus paring this week.
COLLECT
Largire nobis, quaesumus, Domine,
semper spiritum cogitandi quae recta sunt,
promptius et agendi,
ut, qui sine te esse non possumus,
secundum te vivere valeamus.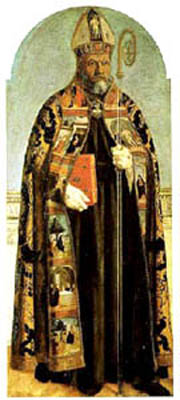 One of the meanings of secundum found in the prestigious Lewis & Short Dictionary is "agreeably to, in accordance with, according to". Largire is an imperative of a deponent verb, not an infinitive. The famous verb cogito is more than simply "to think". It reflects deeper reflection, true pursuit in the mind: "to consider thoroughly, to ponder, to weigh, reflect upon, think".
LITERAL TRANSLATION
We beg you, O Lord, bestow upon us
the spirit of thinking always things which are correct,
and of carrying them out promptly,
so that we who are not able to exist without You
may be able to live according to Your will.

In St. Augustine's commentaries on the Gospel of John (Io. eu. tr. 51,3):
"For Christ, who humbled Himself, made obedient unto death, even the death of the Cross, is the teacher of humility. When He teaches us humility He doesn't thus let go of His divinity: for in it (His divinity) He is the equal of the Father, while in this (His humility) He is like unto us; and in that He is the Father's equal He created us in order that we might exist; and in that He is like to us, He redeemed us so that we would not perish."
In God, we live and move and have our being. We are made to act as God acts: knowing, willing, loving. When we cleave to God, seeking what is good and true and beautiful through the tangle of our wounded intellect, we are seeking God. Once we know what is good, true and beautiful either because we reasoned to it or authority helped us, then we must act in accordance with the good, truth and beauty we have found.
Today we are praying to God to give us the actual graces we need in order to live more properly according to His image He placed within us. For we are even more ourselves, even more free when, eschewing our own varying wills, we embrace Him who is Goodness, Truth and Beauty.
Yet there are times when we purposely (and thereafter habitually) choose against what reason and authority point to as good, truth and beauty. We make the choice to stray and sin. In doing so we diminish ourselves, who have our very existence from the One whom we have defied. We must return to the correct path, like Dante who has strayed into the dark woods after leaving the path of the right reason.
So often, we could avoid straying and sinning if we would just act on that first proper of our minds and consciences. Sometimes, of course, we must ponder to discern the correct path in difficult situations.
But most of the time, we get into trouble when we hesitate in doing what we know is right. We mull and pick and dawdle and get ourselves into a whole hornet nest of problems.
Prompt action helps us to avoid many problems and many sins. In a way, the phrase of the Nike commercial (and Nike means "victory" in ancient Greek) sums it up: Just Do It.
NEW CORRECTED ICEL:
Bestow on us, we pray, O Lord,
a spirit of always pondering on what is right
and of hastening to carry it out,
and, since without you we cannot exist,
may we be enabled to live according to your will.
I promise I am not making this up.   This is what we have been using all these years.
LAME-DUCK ICEL:
Father, without you we can do nothing.
By your Spirit help us to know what is right
and to be eager in doing your will.