On the site of The Guardian there is a ridiculous piece the clueless Victoria Bekiempis about the CDF's reforming efforts regarding the Leadership Conference of Women's Religious (LCWR – a subsidiary of the Magisterium of Nuns, indeed, the Nuns gone WILD!).
I find the picture amusing.
While focusing on some bishops (who knows in which country) the sister on the right is clearly not in any American city.  My money is on Poland.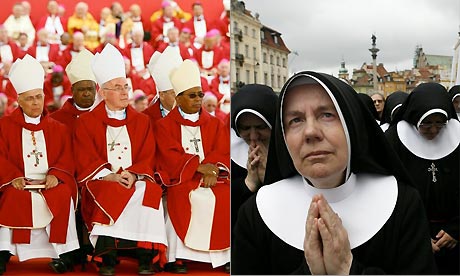 Beyond that, the article is good for a couple of chuckles.  That's about all.
Perhaps the article should have had this photo, of Sr. Donna Quinn, acting as an escort at an abortion clinic.
I, for one, am waiting for my special invitation as a guest at the LCWR's big upcoming Assembly in August.
Mystery Unfolding: Leading in the Evolutionary Now
Keynote speaker: Barbara Marx Hubbard
Panelists: Tom Fox; Jennifer Gordan, SCL; and Jamie Manson
I can understand why they would have one of their big supporters Tom Fox of the Fishwrap, and also of the Fishwrap the openly lesbian Jamie Manson, and I have no idea who Gordan is.  But Hubbard!   Intriguing!
Hubbard, of the Foundation for Conscious Evolution, is into Ascending Humanity and the Wheel of Co-creation – Entering the Cosmic Mystery Together.
I mean… think about it!
What the hell is that, anyway?