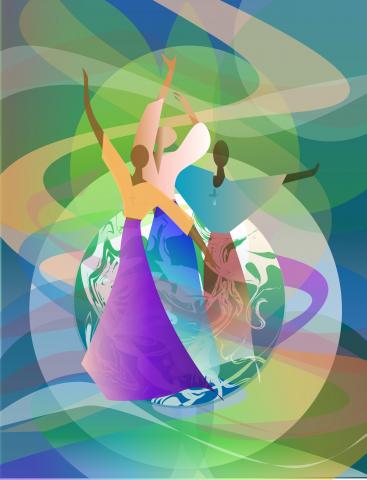 On the site of the National catholic Fishwrap there is a story about a meeting of the past presidents of the Leadership Conference of Women Religious (LCWR – a subsidiary of the Magisterium of Nuns). The story, by their obedient acolyte Joshua McElwee, is too long to be of interest in toto. But this gem cannot be overlooked.
The ever-reliable Sr. Joan Chittister, OSB, hot from her hardball interview with Christiane Amanpour at CNN, shared this insight:
"It is only recently that I've come to the point where I can say that the function of a Religious is to be religious, not necessarily to be canonical."
Here we have reason #3667 for the CDF's doctrinal assessment of religious life.  They have a defective theology of religious life.  Statements like Chittister's betray the LCWR nuns' inadequate understanding of what religious are in the Church.
Apart from the question whether the nuns should disband the LCWR as the official liaison with the Holy See, religious in themselves cannot be but canonical, both individually and collectively in their religious institutes (or orders).
All Catholics belong to canonical structures whether they want to or not.  If you doubt me, try to get baptized or married and you will quickly find out what a parish is.  Groups of lay people who get together in an association must deal with canonical issues.  Bishops can remove the designation "Catholic" from organizations.  Lest Sr. Joan not believe this, it is impossible not to be in a canonical structure of some sort.  This is a fortiori the case for all nuns.
Just for kicks, lets have a look at what the (still) Sacred Congregation for Religious and for Secular Institutes wrote in the document  Essential Elements  in the Church's Teaching on Religious Life as Applied to Institutes Dedicated to Works of the Apostolate back in 1983.  Paragraph 8 says:
When consecration by profession of the counsels is affirmed as a definitive response to God in a public commitment taken before the Church, it belongs to the life and holiness of the Church (cf. Lumen Gentium 44). It is the Church which authenticates the gift and which mediates the consecration.
Also, paragraph 16:
The religious is pledged to obey the directives of lawful superiors according to the constitutions of the institute and further accepts a particular obedience to the Holy Father in virtue of the vow of obedience.
Think about this:
Catholics, by virtue of baptism, participate in canonical structures in the Church.  If the Church mediates the consecration of women religious, then it follows – unavoidably – that religious women participate in canonical structures by virtue of their being religious.
So, Sister Joan, women religious cannot be religious except within canonical structures.  Period.
"But Father! But Father!" some will shout, "Sr. Joan is talking about the canonical structure of the LCWR, not about religious life in general.  You are mean and you hate nuns."
Sed contra! On the contrary, I like nuns so much I want them to be lovingly embraced within canonical structures!
At one point Sr. Joan was at one point asked, according to the linked article, "whether women religious should live outside formal church structures."
In summary, it looks to me as if these women really don't want to be women religious in any sense that Holy Church recognizes.  However, they are afraid to quit because the instant they do, they will be irrelevant.
A case in point.
Consider if you will the group NCAN, an even more radical splinter group of the LCWR, which has fulfilled Sr. Joan's dream of being without canonical structure.  Their site is HERE, though it has not been updated since 2009 when they gave their coveted Margaret Ellen Traxler Award to Sr. Louise Lears, SC, whom then-Archbishop Raymond Burke of St. Louis placed under interdict for her support of the ordination of women and her attending a fake "ordination". These days the NCAN types are reduced to holding chat sessions in gated communities for three cats and a tumbleweed rather than in hotels for hundreds of sisters. For example, HERE is the flyer for a May 2012 meeting with the pro-choice Sr. Donna Quinn.  (See my post NUNS GONE WILD!)
This is what Sr. Joan wants?
Whatever Sister wants she should have!