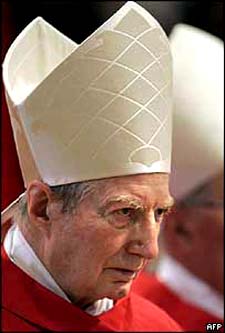 Carlo Maria Card. Martini, SJ, died.  I have little to say about him.  However, I found in our Catholic blogosphere two comments on his death which are useful.
By way of introduction, in early August Card. Martini did an interview for Corriere della Sera.  It was not released, however, until after Martini's death, which seems to me be have been planned, particularly because of the descriptive phrase leading off the interview, «Una sorta di testamento spirituale. Il cardinale Martini ha letto e approvato il testo» … "A kind of spiritual testament. Cardinal Martini read and approved the text." An English translation of the interview can be found HERE.
First, from Rorate comes this, which begins with the old …
De mortuis nihil nisi bonum [(Say) nothing but good about the dead.]

A good rule, certainly, a hallmark of civilization, and one we have always observed.

When the dead person himself chooses to cause uproar in a "posthumous" interview timed to be released immediately following his death and published in order to criticize the Church that gave him everything he had and that made him everything he was, then, our prayers having been said, we can only affirm, without referring to any specific person:

[…]
You can see for yourself what they affirm over there.  I am not sure I entirely agree with their assessment, though I sure understand their position.  It seems to me, however, that in God's mysterious providence, we don't always know what comes from a man's choices.  But let that pass.
Next, here is a goodly portion of a good post by my friend the mighty p.p. of Brighton, Fr. Ray Blake.  My emphases:
[…]

The problem for Martini, as for the left in general, is that he was well able to present a critique of the Church's problems but not to offer any realistic solutions, unless criticism itself can be deemed a solution. The posthumously published interview is hyperbolic, in the "something must be done" style but there actually no answers or solutions. In areas of the admission of the "some" divorced people to Holy Communion, of the perception of those outside the Church to its teaching on sex and sexuality, practically everyone with a heart would agree that there is problem, Pope Benedict himself has often spoken on such issues. The problem is dealing with these particular and personal problems through the general and universal law of the Church; difficult cases do not make for good law. On evangelisation, on the involvement of the laity in diocesan government or diocesan bishops in the universal Church are issues that Pope Benedict has addressed. Solving the problems are a little more difficult than merely identifying that there is a problem. [Perhaps very points Martini critiqued were his suggestions for solutions.  In other words, perhaps he thought the "problems" were to be solved by fiat, and I don't mean the car company.  By a stroke of the pen, the Roman Pontiff was to change the Church's law and, I think I don't go out on a limb to say it, the Church's doctrine.]

There are many contradictions in Martini's thought, on the one hand he speaks about the "loss of  future generations of Catholics", he seems to mean cultural Catholics and yet he demands a radical following of the Gospel. He seems unable to understand that the radical break with traditional Catholicism also breaks the connection of cultural Catholics. [Good point!]

There is a Marxist sense of cultural struggle, or even low level war, in Martini's writings, which marks out the left (left in bot the theological and political sense). There is need to attack, an attempt to destroy "the institution" of presenting the "institutional" Church in opposition to the Church of the masses. Once those things which are attacked are destroyed, they are replaced by another left leaning institution that is far [more] tyrannical than that which went before. In classic Marxist terms there is a continuous process of purification that goes on until such time as perfection is achieved. In the case of the Church of course, until such time as the institutional Church is destroyed and replaced by a perfect human society, which of course will be something quite contrary to Church of the Gospel or Revelation.
Well said, Fr. Blake.
That said, friends… stop and say a prayer for the repose of the soul of the late Card. Martini, who has gone to his judgment.