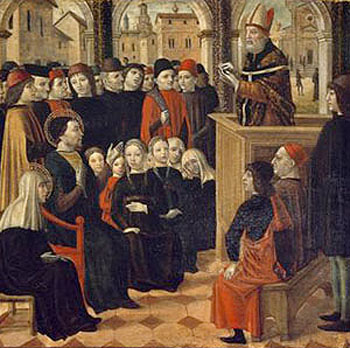 I was informed that recently His Eminence Daniel Card. DiNardo of Galveston-Houston delivered the annual Carl J. Peter Lecture at the Pontifical North American College. His topic: "Preaching With The Fathers Of The Church".
This, of course, is of great interest to me, for that is my field and His Eminence obtained an STL from my school, the Augustinianum.
He makes a good point at the onset:
The Fathers of the Church are significant. We should read them. Let us be candid. We read more about them than actually read and study them and their writings. The weight of seminary curricula and requirements among those studying for the priesthood sometimes truncate a more prolonged study or leisurely reading of these ancient Christian authors.
Amen.
Did you know that there is a document from the Congregation for Catholic Education (which governed seminaries) requiring that major seminaries must have a in its curriculum  classes in Patristic Theology? Yes! And they must be separate from history, etc.  Alas, in the Vatican's website the document is only in Italian.  HERE.  I think it has been ignored.
If, as I claim, no effort in the New Evangelization (when did the Old one end, again?) will succeed unless we revitalize our liturgical worship of God, close behind must be a renewal of preaching. We need sound preaching.
That is one reason why I invite you each week to post a comment with good points from the sermon you heard on Sunday. Many people are inflicted with really lousy preaching. Getting a good point even second hand is better than nothing. Furthermore, I am also trying to establish a patter of listening carefully and trying to remember what was in the homily so that you can post something here. But I digress.
Dignified, vertically oriented liturgical worship
More confessions
Better preaching
These three would take us a long way.
Thus, I hope all seminarians and priests out there will take a moment to read Card. DiNardo's talk.
Also, I hope you will chime in and talk about the quality of preaching where you are, but in general terms. I urge you NOT to bash priests or deacons by name or identify them by parish or role. I suppose if you want to compliment them you can identify them, but don't vilify. I will be tempted, if you defy this caveat, to block you from ever posting again.
So, how's the preaching? Has it started to improve with a new generation of priests? Do you hear references to the Fathers? Is it based always on the Sunday readings? Do you get the red-meat of the Church's moral teachings on key issues?