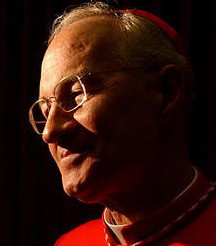 One of the putative front-runners as the next Pope is Marc Card. Ouellet, 68 (about the right age) presently Prefect of the Congregation for Bishops, formerly Archbishop of Quebec City, polyglot, firmly in the same "Communio" theology line with Joseph Ratzinger, who once said becoming pope "would be a nightmare", etc. etc. A strong favorite of Fr. Z for the election.  I talked about him already in 2005 during "Papal April" on Fox News as the guy to watch.
There was an article about Card. Ouellet from Reuters about an interview he did with the CBC in which His Eminence speaks about the prospects of being the next Vicar of Christ.
Some quotes:
"I have to be ready even if I think that probably others could do it better."

"I can't not think about the possibility. Reasonably, when I go into the conclave of cardinals, I have to say to myself, 'What if, what if…' It makes me reflect, it makes me pray, it makes me somewhat afraid. I am very conscious of the weight of the task," he said.

"So you have to be ready for any outcome, but I think a certain number of people have more chance of being elected than me."
I am more comfortable with the Electors choosing a man who really doesn't want the role than one who really does want it.
Of course, the one elected has to say "Accepto".