Today is the Feast of Our Lady of Ransom and of Our Lady of Walsingham.
Two years ago I was in London, watching with a fine young priest of the Anglican Ordinariate of Our Lady of Walsingham the episcopal consecration and installation of the new Bishop of Portsmouth, Most. Rev. Philip Egan.  At the end of the rite, Bp. Egan gave a fine reflection.  Tune in at about 2:12 in the video below.
And I would like to remind you that the Catholic artist Daniel Mitsui (who is still playing the hospital bills for his little daughter) has a beautiful version of Our Lady of Walsingham.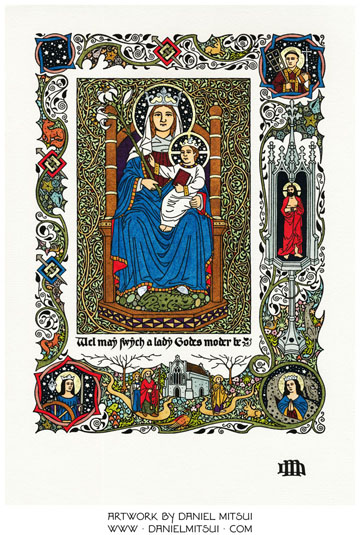 By the way… I love the Collect for Our Lady of Ransom.
Who wants to take a crack at it?
Deus, qui per gloriosissimam Filii tui Matrem ad liberandos Christifideles a potestate paganorum nova Ecclesiam tuam prole amplificare dignatus es: praesta quaesumus; ut, quam pie veneramur tanti operis institutricem, eius pariter meritis et intercessione a peccatis omnibus, et captivitate daemonis liberemur.
Given that there is rising up a force of horrendous evil, flying the black flag of Islamism, and that they have captives, and that they are BEHEADING captives, as they did again today to a poor man from France, say a prayer to Our Lady of Ransom for the protection of all who are in danger of their very lives from the "Religion of Peace".