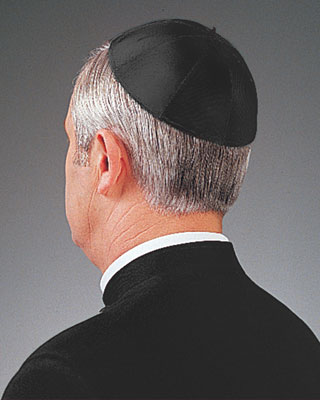 From a reader…
QUAERITUR:
I was wondering if priests are permitted to wear a black zucchetto nowadays and which types of priests can wear them or used to wear them prior to Vatican II? And if so, when does a priest wear a zucchetto on his head?
"On his head…." Where else would he wear it?
Yes, a priest may wear a black zucchetto.   However, this is not, for a priest, a liturgical item.  He would not wear it when saying Mass or when in choro.   We use the biretta.
A zucchetto is useful for keeping one's bald spot warm.  That's about it.
BTW… sometimes this gizmo is called a "solideo". That's Latin… soli Deo, since they are removed at the Holy Name and for the Blessed Sacrament. And sometimes, in some places, they had a pom on them.