Yesterday, I posted HERE about the release of the booklet by Card. Coccopalmerio, Prefect of the Pontifical Council for Legislative Texts. It was ballyhooed as The Response™ to the Five Dubia of the Four "intransigent" Cardinals, who are dissenters because they are defending doctrine. The Cardinal's booklet, which had a veneer of official approval because it was published by the Vatican Press, was to be publicly presented today.
Yesterday I made two main points.
First, the booklet cannot by any reasonable person be thought to be The Response™ to the Five Dubia of the Four Cardinals. The Response™ must come from His Holiness the Pope or, at his manifest behest, the Congregation for the Doctrine of the Faith.
Second, the landscape we are looking at these days is surreal enough to be like a Salvador Dali painting. Things are getting strange.
They just got stranger today.
Card. Coccopalmerio did not come to his own book presentation. Instead, as reported by the best English language vaticanista in Rome now, Edward Pentin, the Cardinal went to a meeting of the Congregation for Causes of Saints.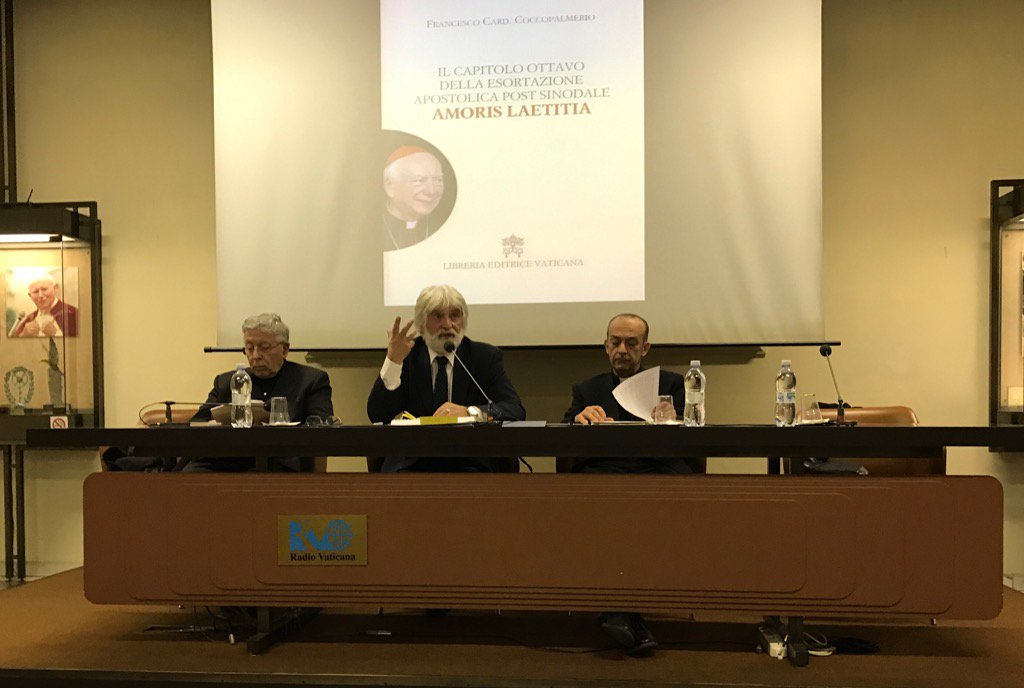 Let's be clear about something. In Rome, book presentations are not usually made by the author of the book. However, the author is usually in the room.
It it pretty odd that His Eminence was not there for the roll out of the booklet that was heralded as The Response™. Right?  And for a meeting at Saints?
Furthermore, according to a tweet by Pentin, the conference presenters openly said that the booklet was NOT a response to the Five Dubia!
Conference presenters say +Coccopalmerio's book on #AmorisLaetitia is not a response to the dubia, just his own pastoral reflections

— Edward Pentin (@EdwardPentin) February 14, 2017
Curiouser and curiouser.
Something is going on.
UPDATE:
CNS says:
Father Costa [Salesian, director of the Vatican Press, presenter] told reporters the cardinal's book is not "the Vatican response" to the challenges posed by U.S. Cardinal Raymond L. Burke and three retired cardinals [NB: CNS singled out Card. Burke!  I suspect that Card. Caffara wrote the Dubia.  Why single out Card. Burke?  Obvious.] to the supposed lack of clarity and potential misunderstanding of "Amoris Laetitia." [Why might one think it is not clear? Because, as CNS reports in the same piece, there are sharply contrasting statements about it by conferences of bishops?] Rather, he said, it is an "authoritative" reading of the papal document and a contribution to the ongoing discussion.  [So, it's an "authoritative" reading and it is a "contribution".]
Also from CNS:
Father Maurizio Gronchi, a theologian and consultant to the Congregation for the Doctrine of the Faith, told reporters Feb. 14 Cardinal Coccopalmerio's reading of "Amoris Laetitia" is the same as the bishops of Malta, Germany and the church region of Buenos Aires, Argentina.
Moreover:
In writing that the church could admit such a couple to the sacraments with the "verification of two essential conditions — that they desire to change that situation, but they cannot act on their desire," the cardinal said the verification must be done with "attentive and authoritative discernment" under the guidance of a priest. [Read between the lines: they still want to have sexual relations.  Somehow the must have sexual relations.  It seems that they are incapable of not having sexual relations.  QUAERITUR: Where is God's grace?]

Does "welcoming the sinner justify the person's behavior and renounce doctrine?" the cardinal asked. "Certainly not."
It sure sounds like it does.
I am reminded of what canonist Ed Peters wrote about priests who would in some way, in the context of the internal forum, the confessional, recommend, condone, guide to, suggest, approve, hint that a couple in an objective state of adultery (divorced and civilly remarried, no declaration of nullity, etc.) could have sexual relations.  Those priests would be in effect commit the crime of solicitation in Confession (if for themselves, for someone else – it's still solicitation!).   Peters wrote about the Coccopalmerio booklet today and he reminds us all of the point about can. 1387.  HERE
UPDATE:
In effect, it seems that His Eminence has suggested that the desire to change is enough to receive Holy Communion.  An actual change is not required.
I wonder how far that could be pushed.
[The screen fades to black and comes back up in an old fashioned church.  Zoom to the confessional across the nave.  The light is on.   A big, really big, guy with black hair goes into the "penitent" side.  Shift to inside.  The door of the grate draws back.  A priest wearing a stole is seen on the other side….]

"Bless me Fahdah, 'cuz I have sinned.  It's been maybe 20 years since my las' confession and deez are my sins.   Ya' see, it's like dis, Fahdah… I'm in, you know, Our 'Ting and I well, I kill people, ya see?  I don't particularly like doin' it, if ya know what I mean.  But, ya see, it's my job.  I got into a little trouble with the ponies and da other stuff and … well, I got debts to pay, ya' know?  So, I gotta keep killing people to make livin'.  Besides, some of the people I work with wouldn't take kindly to me just stoppin' an all.  But I really wanna go to Communion when I go to da Mass.  I mean, it's been a while and I'm not exactly gettin' younger, right?  Whadya say, Fahdah?  I keep hearin' deez days about the whole mercy ting.  And, okay, you might say I'm kinda an expert on the opposite, ya know?  All that cryin' and pleadin' an'all.  It's pretty hard.  I'm tryin' ta be more mercyful.  So's I try to do it fast an' when they ain't lookin', just to be nice, okay?  So's I was tinking that I could, maybe, just slip in quiet like when I go to another town for work, ya see?  Okay, Fahdah?  Whadya say?"

"Well, my son.  You are clearly not living in accordance with the Church's teachings.  But you seem sincere and, well, you want to change. Right?"

"Oh yes, Fahdah, I really do.  Really truly.  But, like I was sayin', I got debts to pay off and there are the other factors too, like my… associates, if you get my drift.  So, I really gotta keep workin', capisc'?"

"Yes, yes… I see.  Well, if in your conscience you sense that you should go to Communion, and you really want to change, even though right now you can't help it, even though you have to keep… um… working…."

"Oh yes, Fahdah, I gotta keep whacking dos' guys.  It's my job, an all.  But, like I said, I don't really like it and I try to hit em when…."

"Yes, yes… of course.  Okay, my son, yes, you can go to Communion.  After all, this is the age of compassion and mercy.  Your conscience is all that matters.  But try not to kill too many people between Communions, okay?  You must make concrete and real progress toward your goal of not being a murderer for hire.  So for your penance, please think nice thoughts about your last, and your next, victim.  Do you know an Act of Contri… oh, well… I guess we can dispense with that.   'God, the Father of mercies….'"

[Fade to black.]
"But Fahdah! But Fahdah!", some of you libs are squeeking, "Are you really making a comparison between a sexual act between two consenting adults and a mob hit?  Really?  This is outrageous!  You must hate Love, because you HATE VATICAN II!"
Calm down and wipe the spittle-flecks off your chin.
We are talking about mortal sins.  Right?  In this case, very mortal indeed.
But take another case…
"Bless me Father, I have sinned, it has been two weeks since my last confession.  These are my sins.  I am the owner of a good sized company with many employees.  But these are hard times in my industry, so I regularly defraud my employees of their just wages.  In our town, I am one of the most important employers, so most people there just have to take it, suffer the injustice.   And, well, I am going to continue to do it, too, because, well… it would be really hard if I don't.  The company could go bankrupt and then… well… everyone would lose their jobs.  So, if I don't cheat them, I'm committing an even worse sin, right?"

[Father, on the other side of the grate, nods his head slowly, brow furrowed in compassionate mercy.  Then, his expression changes to shock.]

"You are mistreating the workers?!?  What sort of man are you?  If you were only committing a sin like, I don't know, adultery then I could say, well, I could say a lot of things. We could work with those while you receive Communion, in compassion and mercy because your conscience would be clear.  But THIS?  I just don't know.  You must change your ways, my son.  It is not enough to want to.  This is the proletariat we are talking about here!  Workers, you know?  Being abused by a corporate fat cat!   No, no. You must STOP this before you can go to Communion.  Do you hear? Enough!"

[The penitent sobs quietly.  FADE TO BLACK.]