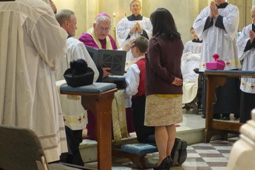 At RenewAmerica, Matt C. Abbot posted about an encouraging event: confirmations conferred in the Extraordinary Form.  The account is a good read.  It included the following with my emphases and comments:
[…]

I discovered the Latin Mass in my early adulthood and attended occasionally. Some years ago, my husband finally agreed to try to attend. He did not feel like he could follow the Mass at first, [at first… but that doesn't last very long] and felt lost. We also discovered the Una Voce group at our parish, which was one state over, but only 30 minutes from our home.

During some of our meetings I found out about the extraordinary form (EF) Confirmation, which was being held at select parishes around the country. [For example HERE] One mother was actively seeking to get EF Confirmation for her son at our parish but had little success, although the pastor, a canon lawyer, seemed very interested. Perhaps it was not the right time, but he said he would look into it.

Several years passed with no real progress, or so we thought. I started to ask our pastor as well. We got the same answer: that he was looking into it, and that he would be interested. Finally, my friend said: 'We should get a man to ask!' So my husband did, and lo and behold, we got the affirmative – our pastor would seek permission from Archbishop Kurtz of Louisville. I was almost sure the archbishop would say no. Sometime later, I asked our priest again, and he said that the archbishop wanted to do it and was excited about the idea! We were thrilled! [¡Hagan lío!]

[…]
The moral of the story is: persevere.  You need to keep advancing the ball.
Never give up!  Never surrender!