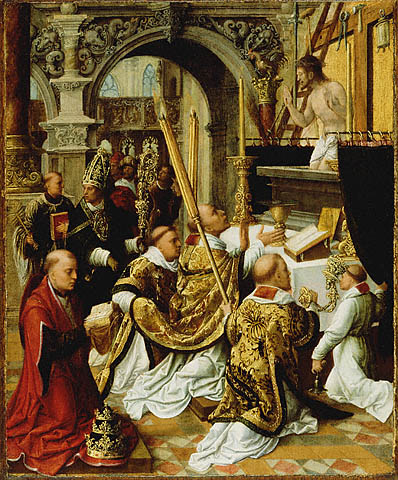 COLLECT
Deus, qui et iustis praemia meritorum
et peccatoribus veniam per paenitentiam praebes,
tuis supplicibus miserere,
ut reatus nostri confessio
indulgentiam valeat percipere delictorum.

In the Gelasianum Vetus for Wednesday of the Fourth Week of Lent we had "Omnipotens sempiterne deus, qui et iustis praemia meritorum et peccatoribus per ieiunium erroris sui ueniam praebis, miserire supplicibus, parce peccantibus: ut reatus nostri confessio indulgentiam ualeat percipere dilictorum: per dominum nostrum." In the Hadrianum of the Gregorian Sacramentary there was: Deus qui et iustis praemia meritorum et peccatoribus per ieiunium veniam praebes miserere supplicibus tuis, ut reatus nostri indulgentiam valeat percipere delictorum. Same day with the indication of the same Roman Station of St. Paul's outside the walls.
LITERAL TRANSLATION
O God, who does profer to the just the rewards of merits
and through penance forgiveness unto sinners
be merciful to Your humble petitioners,
so the confession of our guilt
may prevail in obtaining remission of our offenses.

We need to be clear about something. What we do on our own cannot obtain anything from God on its own merits. To paraphrase St. Augustine when God crowns our merits, He crowns His own merits in us.
I wrote this next excerpt from a WDTPRS article for Super Oblata of the 8th Sunday of Ordinary Time. I think it applies. Also, I am really sick right now and just don't have it in me to do much more, so here goes. Some of the rest of you can dig into the vocabulary and syntax.
___
We have here a pairing of words which are, so to speak, two sides of the one and same coin: meritum and praemium. Meritum or "merit" is the right to a reward (praemium) due to some work done. Supernatural merit is the right to a reward for a work God determines is good and which is done for His sake. This sort of work must be supernatural in its origin, that is, it is done under the influence of grace, and supernatural in its purpose. God alone is the source of supernatural good and therefore He must designate it as such. Consider the consecration in Holy Mass which contains the command of Jesus at the Last Supper and His description of what His commands lead to. Christ tells us that consuming His Body and Blood are for eternal life (cf. John 6). He commanded His Apostles to do what he was doing. If we do what He commands for His sake and the reasons He described, then we merit the reward God designates. The vocabulary (devotio, servitus, meritum, praemium) boldly communicates the truth of our stance before God.

Non-Catholics often think that when Catholics talk about merit, we are saying we can earn salvation by performing good works. The Church doesn't teach this. The Council of Trent said that "none of those things which precede justification, whether faith or works, merit the grace of justification; for if it is by grace, it is not now by works; otherwise, as the Apostle says, grace is no more grace" (13 January 1547 Session VI, Decree on Justification 8, cf. Rom 11:6). Holy Church teaches that Christ alone merits anything in the strictest sense. Man by himself does not merit supernatural rewards (cf. CCC 2007). When moved by grace we do those things God promised to reward (cf. Rom 2:6–11 and Gal 6:6–10). God's grace and His promises are the source of all our merit (CCC 2008). We must make a distinction between condign merit, awarded because it is fully deserved and our action was proportioned to the reward, and congruent merit, awarded by God's generosity for imperfect works. The Bishop of Hippo St. Augustine (+430) eloquently teaches (ep. 194, 19 – read this out loud): "What, therefore, before grace is man's merit, by which merit he receivesexcept by grace and since God crowns nothing other than His own gifts when He crowns our merits?" The theology of this teaching, even the key phrase of Augustine, is in Preface "de sanctis" – (De gloria Sanctorum): "…et, eorum coronando merita, tua dona coronas…." Clearly the Church continues faithfully to hold to her traditional theology of merit and grace.