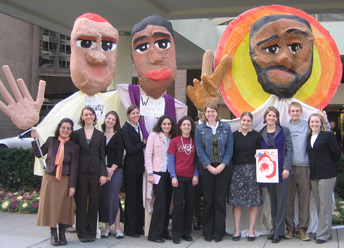 At the site of the Women's Ordination Conference, there is a petition in support of Fr. Roy Bourgeois, MM (and heretic).  I loved this line:
"Our Catholic tradition teaches that sexism is a sin and excluding women from the priesthood is sinful."
Oh?
It occurs to me that there is no Scriptural prohibition of slavery, but we do it anyway.  Just of the top of my head.
But the real fun starts when you visit their programs page and discover that WOC (which is "cow" spelled backwards) you find the – I swear I am not making this up – "Ministry of Irritation".
Ministry of Irritation challenges the Vatican's policies ["policies"] regarding women by engaging the hierarchy and organizing on a grassroots level to bring public attention to the issue of women's ordination and the need for structural change in the church. [Sounds like Alinsky, doesn't it?]
And here I thought the Ministry of Irritation was the Vatican's Secretariat of State.
Does COW… o0000ps  WOC have a Ministrix of Irritation?
By the way, this petition for Roy is sponsored by the
Association of Roman Catholic Womenpriests,
Roman Catholic Womenpriests-USA,
and Women's Ordination Conference.
I count three groups, all standing for the same cause. Hmmm.   I wonder why there are three instead of one.  Could it be that women who agree about women's ordination can't agree among themselves about anything else?
How many women's ordination groups does it take to change a light bulb?
Let's learn more about irritation.
The Ministry of Irritation is the area that most people already associate with WOC – [But not for the reasons they think.] it is our ministry of witnessing and prayerful protest. The purpose of this ministry is to challenge the Church's policies regarding women ["policies", not teachings, right?] by engaging the hierarchy and organizing on a grassroots level to publicly witness for women's ordination into a renewing priestly ministry.

To explain why we use the term "irritation," we use the analogy of the grain of sand and the oyster. The grain of sand irritates the inside of the oyster to create a beautiful pearl, and the people active irritation in this ministry are the grains of sand, irritating the Catholic hierarchy to create a pearl of wisdom for the Church that bring about repentance for the sins of the Kyriarchy [puh-leez!] and bring about a renewing priestly ministry!

Although most of the U.S. bishops have made it clear they do not want to talk with us, [Say it ain't so!] through this ministry, we continue to make attempts to dialogue with them. [Try this.] In addition, we are developing new and creative ideas to fulfill our mission. In this ministry, WOC members organize and participate in the witness events that are a meaningful part of WOC's history, [ooops…. herstory] actions such as:

[…]
You could craft a sitcom around this.
Or you could look at photos of a demonstration in favor of Roy Bourgeois.
Meanwhile….