The "Mass of Saint Gregory" is a common subject of art across many centuries, beginning in mid-14th c, though the subject matter dates back to the 8th c with variations.  The essentials are these: Pope Gregory I, "the Great" (+604) is saying Mass.  He has asked God for a sign to help the lack of faith of a deacon concerning the doctrine of transubstantiation.  Christ appears as the "Man of Sorrows" over the altar.  You will see very many depictions of this theme when you visit well-stocked museums and many European churches.
Daniel Mitsui, whom I feature here occasionally – really like his stuff – has his own rendering of the Mass of St. Gregory.
Please pardon me, but I left the print in its protective plastic.  You can see more HERE.
This is 8″x 10 2/3.
In the bottom corners are Sts. Peter and Paul.  In the upper corners are Proper of Aquitaine and Vincent of Lerins.
Notice that on the left, he inscribes Legem credendi lex statuat supplicandi elsewise Lex Orandi Lex Credendi.  You see on the right:  Id teneamus quod ubique, quod semper, quod ab omnibus creditum est.
As usual, the details are marvelous.
He connects visually the Lord's Passion and Resurrection with the Eucharist.
It is a great Counter-Reformation image, too.  It stresses the doctrine and also papal primacy.
This would be a great gift for a priest or a convert.
Larger right click and open in a new tab.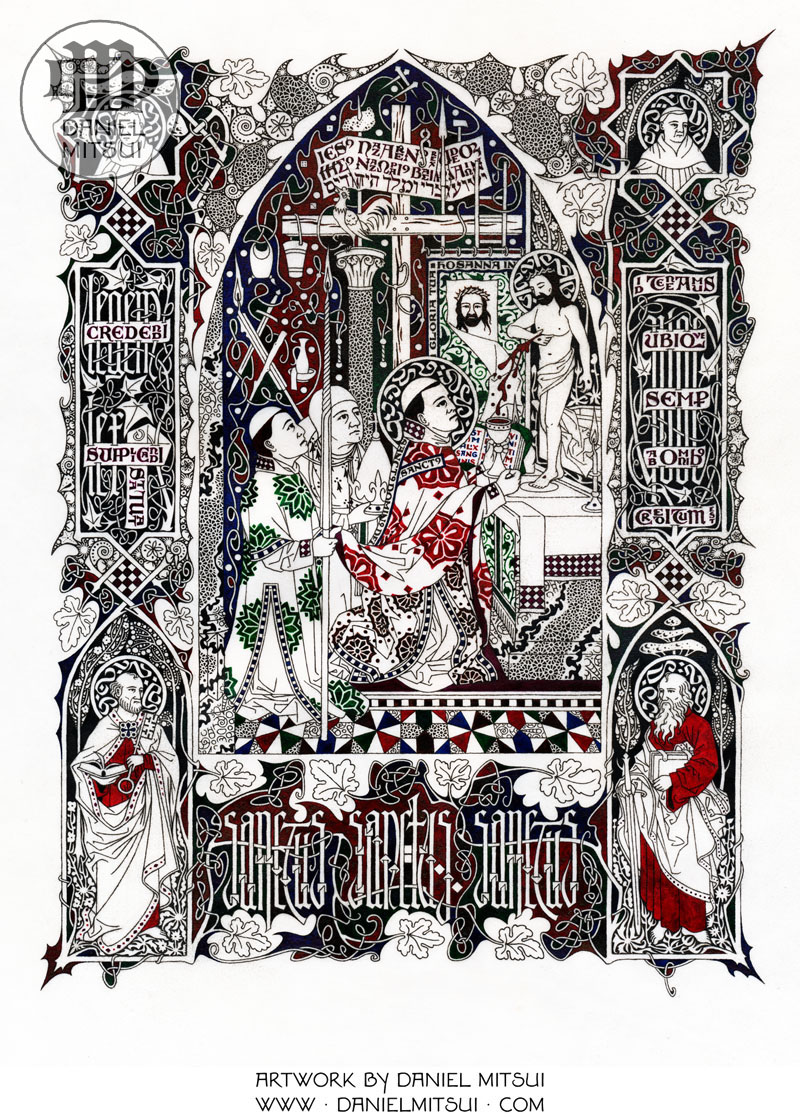 I haven't given up hope that Daniel will, one day, do QSO cards!