The distinguished Catholic artist Daniel Mitsui sent me three prints of saints whose feast days are not very far off.  As usual, in his inimitable style, his images present both awe and whimsy.
BUT FIRST… a touching story…
After Mass last Sunday a fellow stopped in at the sacristy to say hello and to bring news, since I have been away quite a bit with travel and the like.  He and his wife have been giving special attention to a highly educated woman, now badly reduced with Parkinson's together with other complications.  She has not been terribly open to the Catholic Church over the years, to put it mildly.  However, my friend slowly but surely introduced religious matters as points of discussion.  Moreover, as part of her therapy, they have been using Daniel Mitusi's coloring books … which are decidedly not just for children.  Some of the images are remarkably complex.   Go and look!   The imagery of the coloring books is a great entry point into any number of discussion topics about the Catholic Faith.   To make a long story brief, she was received into the Catholic Church recently.  Works of mercy and great patience played their roles, as did Daniel Mitsui's marvelous coloring books.
Now, let's have a look at the new prints Daniel sent.
Please note that I left the prints in their plastic covers.  You can find more about the images at his site.  HERE
St. Nicholas has a feast day on 6 December.   The lightning and storm are given more shock value by the clear state of mind of the passengers in the boat.  And is that an Anglerfish I see?   Note that Nicholas is revered as a great patron by fisherman and others who go by sea.
15 November brings us St. Albert the Great, Doctor of the Church and a mentor to St. Thomas Aquinas… who has a cameo appearance in this print.   Note that, on the shelf above the saint, is a strange "bust" that looks like Frankenstein.   It reappears at the bottom in a scene of violence!
That's St. Thomas, about to smash a mechanical head that St. Albert had made that could answer questions.
MY INTERPRETATION:
Here, the head, let's nickname the head… "Laetitia"… is saying "SIC!… NON!", which is to say, "Yep!… Nope!".  I take this to mean that Laetitia says "Yes" and "No" at the same time in the same respect, thus violating the Principle of Non-Contradiction.  That would certain horrify Thomas to the point of bashing "Laetitia" in with a handy club.  No?  Imagine what the Angelic Doctor would do were the talking head to say, "5!" when asked what "2+2" equals?
Well… that's my take.
That's hilarious.  Daniel wrote to me that, "That story captures the way I feel as a traditional Catholic using the internet – sometimes like one saint, and sometimes like the other."
Surely he is right.
That said, I'm sticking with my own eisegetical version.
There are COLOR versions, too.  But he doesn't send those very often.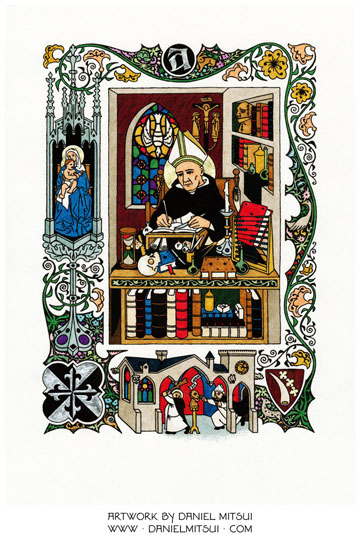 Also in November, 22 November to be exact, is the Feast of St. Cecilia, patroness of Church music.  Here she is in a very dignified pose, with her little portative organ.  The bellows are a nice touch.
These prints are not huge.  They would be easily framed and would make beautiful gifts.