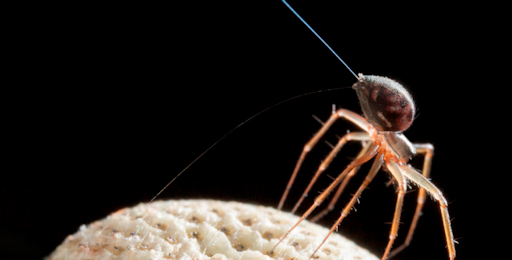 News especially for P…
…from SpaceWeather:
SPIDERS AND SPACE WEATHER: Did you know that spiders can fly? Biologists call it "ballooning." Spiders spin a strand of silk, it juts into the air, and off they go. Airborne arachnids have been found as high as 4 km off the ground. Originally, researchers thought spiders were riding currents of air, but there's a problem with that idea. Spiders often take flight when the air is calm, and large spiders fly even when air currents are insufficient to support their weight. It's a mystery.

Scientists from the University of Bristol may have found the solution. In a paper published in the July 5th edition of Current Biology, they proved that spiders can propel themselves using electric fields.

"We exposed adult Linyphiid spiders (Erigone) to electric fields similar to those which naturally occur in Earth's atmosphere," explains the paper's lead author, Erica Morley. "Spiders showed a significant increase in ballooning in the presence of electric fields." A remarkable video of their experiment shows one spider flying when the fields were switched on, then sinking when the fields were off again.


Above: This diagram, borrowed from K. A. Nicoll's review paper "Space Weather influences on Atmospheric Electricity," illustrates the role of thunderstorms and cosmic rays in creating Earth's electric fields.

The electric fields spiders use for propulsion are part of Earth's global atmospheric electric circuit (GEC)–a planet-sized circuit of electricity that researchers have known about since the 1920s. In a nutshell, thunderstorms help build up a charge difference between the ground and the ionosphere 50 km overhead. The voltage drop is a staggering 250,000 volts. This sets up electric fields linking Earth to the edge of space. Cosmic rays ionize Earth's atmosphere, turning it into a weak conductor that allows currents to flow through the GEC.

[…]
There's more over there.
Perhaps we should amend the Canticle?
Benedícite, fontes, Dómino: * benedícite, mária et flúmina, Dómino.
Benedícite, cete, et ómnia quæ movéntur in aquis, Dómino: * benedícite, omnes vólucres cæli, Dómino.
Benedícite, omnes béstiæ et pécora, Dómino: * benedícite, fílii hóminum, Dómino.
Benedícite, omnes béstiæ et pécora, Dómino: * benedícite, fílii hóminum, Dómino.
Benedícite, matériae eléctricae et potestátes eórum, Dómino:* benedícite, ómnes aráneae volátiles spátium per vácuum, Dómino: …
… Benedíctus es, Dómine, in firmaménto cæli: * et laudábilis, et gloriósus, et superexaltátus in sæcula.
Also, for the sake of transparency, there are spiders in space. HERE