Space Weather News for Dec. 31, 2009
BLUE MOON ECLIPSE: For the first time in almost 20 years, there's going to be a "Blue Moon" on New Year's Eve. In Europe, sky watchers will witness an even rarer event–an eclipse of a Blue Moon on New Year's Eve. What are the odds? Probabilities and observing tips may be found at http://spaceweather.com.
A blue moon is the 2nd full moon in a calendar month.
From NASA we read this:
If you told a person in Shakespeare's day that something happens "once in a Blue Moon" they would attach no astronomical meaning to the statement. Blue moon simply meant rare or absurd, like making a date for the Twelfth of Never. "But meaning is a slippery substance," says Hiscock. "The phrase 'Blue Moon' has been around for more than 400 years, and during that time its meaning has shifted."

The modern definition sprang up in the 1940s. In those days, the Farmer's Almanac of Maine offered a definition of Blue Moon so convoluted that even professional astronomers struggled to understand it. It involved factors such as the ecclesiastical dates of Easter and Lent, and the timing of seasons according to the dynamical mean sun. Aiming to explain blue moons to the layman, Sky & Telescope published an article in 1946 entitled "Once in a Blue Moon." The author James Hugh Pruett cited the 1937 Maine almanac and opined that the "second [full moon] in a month, so I interpret it, is called Blue Moon."

That was not correct, but at least it could be understood. And thus the modern Blue Moon was born.

Blue moon has other connotations, too. In music, it's often a symbol of melancholy. According to one Elvis tune, it means "without a love of my own." On the bright side, he croons in another song, a simple kiss can turn a Blue Moon pure gold.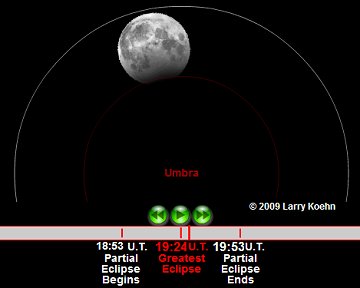 But back to the eclipse:
On Dec. 31st, the Blue Moon will dip into Earth's shadow for a partial lunar eclipse. The event is visible from Europe, Africa and Asia: map. At maximum eclipse, around 19:24 Universal Time, approximately 8% of the Moon will be darkly shadowed. Click on the image to launch an animated preview:

Blue Moons are rare (once every ~2.5 years). Blue Moons on New Year's Eve are rarer still (once every ~19 years). How rare is a lunar eclipse of a Blue Moon on New Year's Eve?

A search of NASA's Five Millennium Catalogue of Lunar Eclipses provides an approximate answer. In the next 1000 years, Blue Moons on New Year's Eve will be eclipsed only 11 times (once every ~91 years). So this is a rare event, indeed.
Very cool.