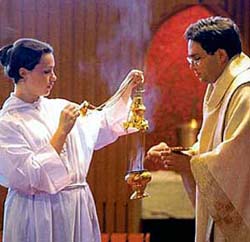 Under another entry there is a discussion about the possibility or the propriety of girls serving Holy Mass in the older, traditional Roman Rite, the Extraordinary Form, hereafter TLM (Traditional Latin Mass).
I mused that I thought most traditionalists would rather not have a TLM at all if girls or women were to serve.
That was my educated guess, but it was just a guess.
Thus, I am posting this unscientific poll and I hope for a big response.
Please choose the option that best (even if not perfectly) describes your position and then give an explanatory comment in the combox.
Voting is anonymous.
Remember: This is primarily about the TLM, not the Novus Ordo.
{democracy:66}