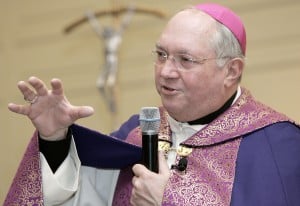 The State Journal of Madison has a breathy article about a recent move by His Excellency Most Reverend Robert C. Morlino.
Bishop Robert Morlino cracks down on Madison nuns for espousing 'New Ageism' and 'indifferentism'
Morlino sent a memo to the priests of the diocese of Madison not to allow some loony nuns and a couple of their acolytes to have workshops, do spiritual direction, etc., at their parishes or other diocesan institutions.  The memo was, of course, leaked to the press as the chancery mandarins knew it would be… or should have known.
The women, who are connected to an "interfaith" center called "Wisdom's Well", are into some pretty strange stuff.  A couple of them are Sinsinawa Dominican nuns.  If you know anything about that group, then you have the basics.  Think Macbeth.  One of them left their bonfire lit labyrinth long enough to torture me and my friends at St. Paul Seminary years ago.  Let's just say that clearly I remember those days, and her, and all her ilk.  But I digress.
In any event, His Excellency is going to take another one on the chin in the local paper… as if he cares.
A link to the secular paper's article is HERE. The article isn't blatantly skewed but it slants in the direction you would imagine in a town like Madison: women enlightened and oppressed by mean male bishop.
That said, I would like to plug an effort to create a spiritual bouquet for Bishop Morlino for his birthday on 31 December.
Please help!  Click HERE.
UPDATE:
The Diocese of Madison has issued some clarifications in the wake of the secular paper's story.  HERE.   One of the main points is that Bp. Morlino is not cracking down on all women religious in the diocese, just these odd balls associated with that group.
UPDATE 12/12/12 19:06 GMT:
Bp. Morlino was pretty viciously attacked in a Madison publication which, as far as I can tell, is little more than a shopper insert or one of those cat-box liners you can pick up for free on wire stands inside the doorways of gas stations.  No… wait… maybe it's only digital.  I don't know.
The writer, styling himself "Citizen Dave"… inspired by the French Revolution, I guess… aka Dave Cieslewicz is the former mayor of the city of Madison (he lost his last mayoral election bid).  He is, big surprise, a Democrat and a "former Catholic".
Let's have a taste:
Citizen Dave: Bishop Morlino is failing Madison

Bishop Robert Morlino is failing badly in his role as a community leader. If the Catholic Church had any sense, they would replace him with someone more in touch with the community he should be serving. Of course, they won't.

I don't say this as a church hater. I grew up in a more or less devout Catholic family, and I had twelve years of Catholic education through elementary and high school. My father's uncle was the priest in our parish. I even find myself in the odd role of defender of the faith when some non-Catholic goes off on the church. My feeling is that only those who have had their knuckles wrapped by Sister Mary Katherine get to dis the faith, I guess.

But I stopped being a practicing Catholic when I was twenty and, truth is, I stopped buying into any of it while at Thomas More High School. Ironically, the good education given to me by the Brothers of Mary taught me to think critically, and Catholicism just didn't hold up very well to critical thinking. If you aren't willing to accept the answer to every hard question as "it's a mystery," well, then it's pretty hard to remain a Catholic.

Moreover, even as a young kid I thought that the people who were the most outwardly religious were the least likeable people I knew. There was nothing — intellectually or socially — to hold me in the church.

[…]
I am sure this guy's column has tens of regular readers, perhaps extended family.  My linking to it will probably get him more attention in a day than he otherwise gets in a year.  Oh well.
Again, please use the link, above, to contribute to the spiritual bouquet for Bp. Morlino.
Another thing you could do to help is send an online donation to support the diocese's seminarians. The diocese has 35 seminarians right now, if I am not mistaken.  They have foundation that budget for only 2 per year, which means that they are way over their budget to pay for the formation of the seminarians.
I have met some of these men.  They are great.  Also, Bishop Morlino has told them -and I heard this with my own ears – that he expects all of them to know the Extraordinary Form before he ordains them!  I wrote about that HERE.
The diocesan website has a donation page with a drop down menu.  Choose the St. JOSEPH Fund.