But wait!  There's more… from my email…
GEOMAGNETIC STORM: A stream of solar wind hit Earth's magnetic field on Sept. 11th, sparking one of the strongest geomagnetic storms of the year and auroras in multiple US states. This continues a trend of relatively high geomagnetic activity that began on Sept. 7th.  High-latitude sky watchers could see more auroras tonight.
This is likely why the 20m band stinks right now.
Update from Spaceweather…
SEPT 11TH GEOMAGNETIC STORM: During the early hours of Sept. 11th, a high-speed solar wind stream hit Earth's magnetic field. The impact sparked a strong (Kp=7) geomagnetic storm and Northern Lights in the USA as far south as Wisconsin and Washington State. In Alaska, "the entire sky was moving like sea waves in colors of green and purple," reports aurora tour guide Marketa Murray, who took this picture outside Fairbanks: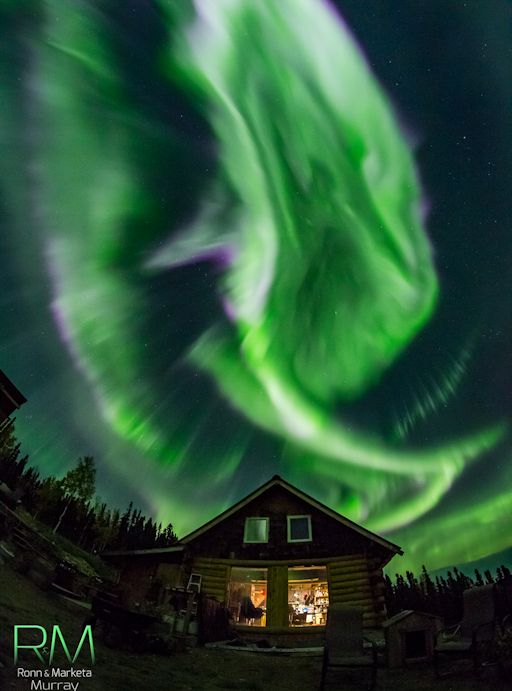 "This was the most beautiful night in a long time," she says. "Our guests were crying and couldn't catch their breath."
More breathtaking auroras could appear tonight. NOAA forecasters estimate a 55% chance of geomagnetic storms on Sept. 11-12 as the solar wind continues to blow.Aurora alerts: text or voice
Published on: Sep 9, 2015 @ 10:56
Tonight it might be worth going outside (if you don't have too much light pollution) to see if there is Aurora Borealis in view.  I don't know about you Southrons, however.
From Spaceweather:
RED AURORAS OVER VIRGINIA: Geomagnetic storms are underway on Sept. 9th. Solar wind is pouring through a crack in Earth's magnetosphere, sparking G2-class storms and bright auroras around the Arctic Circle. Last night, Northern Lights spilled south from Canada all the way down to the Virginias. Darren Shank sends this picture from rural Spruce Knob, WV: [Pretty far south]