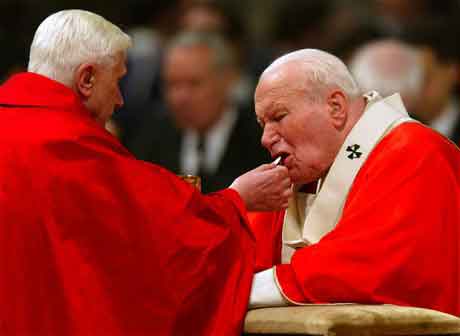 From a reader…
QUAERITUR:
One of the precepts of the Church states we are to receive Holy Communion at Easter. I always wondered if that meant Easter Mass or during the Easter season. My 1962 Missal say Easter (period) but I have seen it stated elsewhere as the Easter season.

Thanks for your consideration and have a great Holy Week!
Easter Duty is the obligation to receive Holy Communion at least at Easter time.  This "time" used to vary according to the country. Communion was to be received at one's parish, if possible. Otherwise, the parish was to be informed.  Old parish registers had a column for notations about Easter Duty.  Also, I have used confessionals that still had a small slot through which a penitent could slide a card for the priest to sign about Easter Duty.  Easter Duty, while mainly focused on Communion, usually and reasonably also included one's annual confession at the the same time.
In the 1983 Code for the Latin Church, the law for the Easter Duty (can. 920) says that it must be fulfilled during the Easter season "unless it is fulfilled for a just cause at another time during the year."
The 1917 Code specified that the period for the fulfillment of this duty ran from Palm Sunday to the 2nd Sunday of Easter.  As mentioned before, the "time" varied by place. In Great Britain, it was between Ash Wednesday and Low Sunday, but in Westminster the 4th Sunday of Lent to Trinity Sunday; in Ireland, Ash Wednesday and the Octave of Ss. Peter and Paul, etc.   The current Code does not specify what the Easter season is for purposes of this precept, and so it seems to run from Holy Saturday through to Pentecost.
However, an indult once given for these United States permitted the fulfillment of this obligation anytime between the 1st Sunday of Lent and Trinity Sunday, inclusive. It has not been revoked and so – I supposed – may still be in force.  That said, the time from the beginning of Lent through Pentecost is pretty long.
So…
GO TO CONFESSION!
And remember: It is NOT obligatory to go to Communion just because you go to Mass.