What a dreadful story.
Fire – roof of Notre Dame of Paris.
I wonder if this dreadful shock will awaken the Faith of the Church's eldest daughter.
UPDATE:
A recording I made with Voice Memo of the bells of Notre-Dame.
Here are the bells of the North Tower and the amazing Bourdon, the big bell "Emmanuel" (slightly smaller than the great "Savorarde" of Sacre-Coeur de Montmartre.   The sound is amazing.  Be careful if you have earpieces or headphones.
And few months ago, I said Mass in the Chapel of the Crown of Thorns, where that great relic was kept, for the repose of the soul of the great Extraordinary Ordinary, Bp. Robert Morlino.
UPDATE
The Crown of Thorns was saved!
Une bonne nouvelle : toutes les œuvres d'art ont été sauvées. Le trésor de la cathédrale est intact, la couronne d'épines, les saints sacrements. #NOTRE_DAME

— Nicolas Delesalle (@KoliaDelesalle) April 15, 2019
From Twitter… Palm Sunday – yesterday –
Palm Sunday, April 14, 2019. #NotreDame pic.twitter.com/ubreOeI2AU

— _merce (@_merce) April 15, 2019
The Archbp of Paris, Michel Aupetit, has asked that all the bells of the city toll to invite people to pray. Firefighters are battling to save the towers.
A tous les prêtres de Paris :
Les pompiers se battent encore pour sauver les tours de Notre-Dame de Paris. La charpente, la toiture et la flèche sont consumés. Prions. Si vous le souhaitez, vous pouvez faire sonner les cloches de vos églises pour inviter à la prière.

— Mgr Michel Aupetit (@MichelAupetit) April 15, 2019
Meanwhile…
The Cathedral, "Hours of Étienne Chevalier", Tours c. 1452-1460 (NY, The Metropolitan Museum of Art, 1975.1.2490) pic.twitter.com/gGhBXIGGoP

— Discarding Images (@discarding_imgs) April 15, 2019
Catholics sing near their burning cathedral.
Un Je Vous Salue Marie devant Notre Dame qui brûle. Une foule de plus en plus dense. Un silence recueilli. #notredame #NotreDameCathedral #notredameon @LaVieHebdo pic.twitter.com/6Nuw8pgqoW

— Laurence Desjoyaux (@laurenceDx) April 15, 2019
From yesterday…
Still can't believe this happened. I was just at Palm Sunday mass at Notre Dame yesterday. It was my favorite place in Paris?? #NotreDame pic.twitter.com/sgVyNNsLrh

— Faith Aloisa (@AloisaFaith) April 15, 2019
Whatever you might say about their liturgical choices… this is Palm Sunday, yesterday, at Notre Dame:
And a TLM from 7 July 2017, the 10th Anniversary of Summorum Pontificum:
Fire at Notre Dame Cathedral in #Paris: first photo taken by a drone#NotreDamedeParis #NotreDame
pic.twitter.com/T9W1ieZ28L

— Guignol's Band (@GuignolsBand) April 15, 2019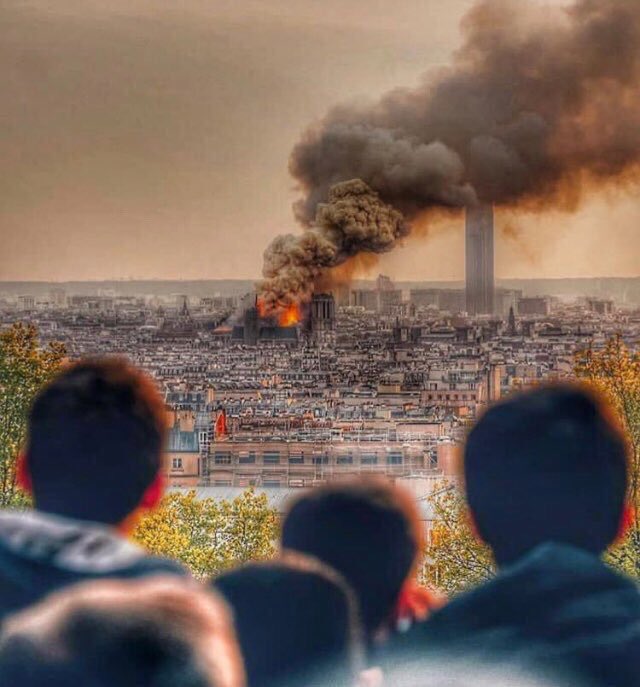 Card. Sarah: "Tonight, I pray for France which means a great deal to me. I pray for the French people who are legitimately horrified by the horror of the Cathedral of Paris in flames. I pray for the faithful, devastated by sadness. Notre Dame will live gain because the Mother of God wants it so."
Ce soir, je prie pour la France qui compte tant pour moi. Je prie pour les français qui sont légitimement horrifiés par l'horreur de la cathédrale de Paris en proie aux flammes. Je prie pour les fidèles dévastés par la tristesse. Notre Dame revivra car la Mère de Dieu le veut +RS

— Cardinal R. Sarah (@Card_R_Sarah) April 15, 2019
À Orléans, la cathédrale Sainte-Croix sonnait le glas il y a quelques minutes pour #NotreDame de Paris. pic.twitter.com/8jyJep7Ni6

— Thomas Schmit (@thomasschmit) April 15, 2019
Podcast: Play in new window | Download
Subscribe: RSS