It is time for a LONDON BLOGNIC!
We are going to meet at The Coal Hole on The Strand near the Savoy. There is Holy Mass at Corpus Christi on Maiden Lane at 6:30 pm (Extraordinary Form). We will go straight over to the Coal Hole after Mass. So, 7:30 is approximate. You get the idea. I figure we will be there for a couple hours, at least.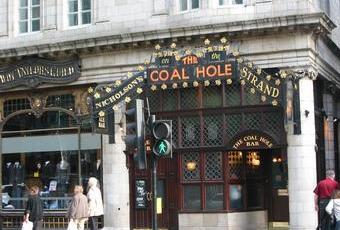 It will be nice to be in (or at least near) the Liberties of the Savoy! The tipstaves won't be able to haul us off to the sponging house.
London Blognic at The Coal Hole
Yes, I'll be there for Mass and for the Blognic. (69%, 20 Votes)
Yes, I'll be there for the Blognic only. (31%, 9 Votes)
Total Voters: 29
Loading ...
As long-time readers know, "blognic" is a blend of "blog and picnic".
A blognic is a social appointment intended get people together to talk and have a drink or some food. Not much more than that! It is meant to be fun and bring together face to face people who participate on this blog. Sometimes when I travel people ask if they can meet me. This is a way to do that.
UPDATE 10 Oct 2037 GMT:
A reader sent the following:
I can't be there, but a good choice, Father; I've had some decent pints in the Coal Hole.

I don't know what the food's like (the pubco that owns it, Nicholsons, usually does plain pub grub in a competent manner), but there's usually an interesting range of ales.

Going by this 1830 map of the Liberty of the Savoy, I'd say the Coal Hole was just within it:

If anyone is trying to follow it, note that the map is oddly oriented, having North towards the bottom left corner. Of course most of the roads have changed due to redevelopment, but if you take a line on Southampton Street, which still exists on the other side of the Strand, it looks like the un-named road on the 1830 map, in between Beaufort Buildings and Cecil Street (neither of which exists under that name today) is the present Carting Lane. The Coal Hole is on the eastern corner of Carting Lane and the Strand, which seems to put it firmly in the Savoy.
I am so glad! We will be safe and snug in the snug… or in the basement. It seems as if we might have a good crowd!
UPDATE 10 Oct 1750 GMT:
The pre-blognic Mass is on at Maiden Lane with Mass XII
And Os iusti for an Abbot.