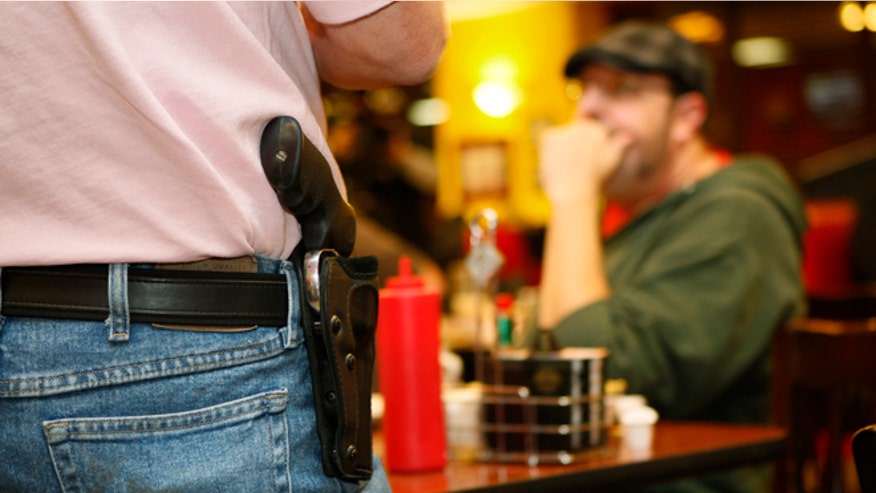 From FNC:
19 states join legal fight against New Jersey's concealed weapons law

CHEYENNE, Wyo. – Wyoming is leading a coalition of 19 states asking the U.S. Supreme Court to let them submit a brief supporting a New Jersey man's challenge to that state's concealed weapons law.

The Wyoming Attorney General's Office, acting as lawyer for Wyoming and the other states, on Wednesday asked the Supreme Court to grant a hearing to John M. Drake and others who are challenging a recent appeals court ruling.

A three-judge panel of the 3rd U.S. Circuit Court of Appeals last summer ruled against Drake's challenge to a provision in New Jersey law that says people seeking permits to carry a concealed firearm must prove to police that they have a justifiable need. [Booo!]

The brief from Wyoming Attorney General's Office says that Wyoming and the other states are concerned that if the appeals court ruling stands, it could threaten their less-restrictive concealed carry laws. [Booo!]

"This decision out of New Jersey impacts the right to keep and bear arms outside of the home," Wyoming Gov. Matt Mead said Wednesday. "So, I felt it was necessary to have the attorney general support a petition to the Supreme Court to hear this case.

"If the current decision stands, states providing greater protections than New Jersey under the Second Amendment may be pre-empted by future federal action," said Mead, a Republican. [Booo!]

Wyoming is among the most pro-gun states in the nation. Although Wyoming still issues concealed carry permits to its citizens, the state in 2011 changed its laws to allow concealed carry without a permit.

Mead and other statewide officials this month approved $13 million in grants to help a Colorado producer of ammunition magazines for guns move its manufacturing operations to Wyoming. Magpul Industries of Erie, Colo., pledged to move out of Colorado after lawmakers in that state enacted gun control measures last year. [Hurray for Magpul!]

[…]

The Star-Ledger quoted Chris W. Cox, executive director of the NRA's Institute for Legislative Action, saying, "Law-abiding citizens have a constitutional right to defend themselves beyond their front doorstep." [Exactly.]

The other states joining in the effort are Alabama, Alaska, Arizona, Arkansas, Florida, Georgia, Kansas, Kentucky, Louisiana, Michigan, Missouri, Nebraska, New Mexico, Ohio, Oklahoma, South Carolina, South Dakota and West Virginia. [If your state isn't on this list, perhaps you should make some phone calls.]
Yet another reason to appreciate Wyoming.
Speaking of Wyoming, if you are thinking about colleges, consider Wyoming Catholic College.  Click their ad on my sidebar.  When I was at the Legatus summit last week, I stopped at their display.  They still have this great t-shirt:
And also speaking of Wyoming, when was the last time you refreshed your supply of …
[CUE MUSIC]
… Mystic Monk Coffee?
You know how it is, don't you.  Every day you wake up, yawn, stretch and get out of bed thinking, "What did Pope Francis do this time that I am going to have to spend my day explaining?" Well, maybe that's just the first thing I think.  What the rest of you out there think first off is, "What have those wacko liberals done to restrict my constitutional rights today?"  Right?  I'm right, aren't I!
That's when you pad off to the kitchen and make that first dose of strong coffee.
You'll need that coffee, pal, because those liberals are crafty.  You need to stay alert.  You need to stay frosty.   Ohhhhh yes.  They're coming for you and for your copies of the Constitution.  They know when you've been sleeping.  They know when your awake.  But unlike Santa, they take things away from you, like your civil liberties!   As a matter of fact, they've already sneaked into your house, no, slithered into your house and planted bugs in your phone and in your dog and in your …  your… coffee maker, too!  FIGHT BACK!  Just like the Devil hates holy water, liberals hate Mystic Monk Coffee.   Give 'em a good solid punch in the nose each day when that fine dark roasted aroma spreads out into your living space and starts to interfere with their … their… secret liberal smello-technology bugging software device monitors and stuff.
Remember, it was a lack of Mystic Monk Coffee that brought down Tsar and caused the rise of Communism and eventually led to Notre Dame giving Pres. Obama an honorary doctorate!   In doctorate in LAW for pity's sake!
And those same liberals are out there right now trying to take your coffee away!
The Carmelites have tea also, for those of you who like that sort of thing… even those goofy flavored teas.  Click HERE  It might be that a liberal will visit your house and you can offer her some herbal stuff with … eucalyptus in it.  That'll confuse them!  Heh heh.  She'll wonder what you are really up to, but she'll be so distracted by the chamomile and hibiscus flower that she'll forget to tell her controllers where to find your stash of ammo.  "Where's that ammo!", they ask her, but she'll say, "Ummm… that Peaceful Monk infusion was so pleasant… maybe it's okay for them to have ammo…. I dunno."
You can get a grinder and also religious items and gifts through these traditional Carmelites out there in the wilds near Powell.  No liberals out there.  Nosiree.
And this month's Coffee of the Month is…
Mystic Monk Coffee has been and remains swell and a great weapon in the fight against creeping liberalism.
Be a patriot!  Click now or lose your country forever!
And… have you ever noticed that WCC is CCW backwards?  Hmmm….