For your Just Too Cool file.
So, you want to fix a leak in your roof.  You go upstairs and discover what might be a long-lost 400 year old painting by Michelangelo Merisi, Caravaggio, worth about $140 million.
The subject of the painting is Judith Beheading Holofernes. I once gave a talk at the Detroit Institute of Art and spoke about this theme. There are quite a few depictions in paint from this era.
From the Daily Mail:
French family who wanted to fix their leaky attic find long-lost £100m Caravaggio masterpiece (with a very grisly subject matter)

A 400-year-old painting that might have been executed by Italian master Michelangelo Merisi da Caravaggio has been found in an attic in southern France. [in 2014 as it turns out]
Eric Turquin, the French expert who retrieved the painting two years ago, says it is in an exceptional state of conservation and estimates its value at 120 million euros (about £100m).
The picture, whose authenticity has not been established, had been left for more than 150 years in a property in the outskirts of Toulouse.
Called 'Judith Beheading Holofernes,' it depicts the biblical heroine Judith beheading an Assyrian general, and is thought to have been painted in Rome circa 1604-05.
Judith, a widow, was said to have seduced Holofernes before getting him drunk and killing him with his own sword.
Typically for a Caravaggio painting, it is the moment of the greatest dramatic impact – the decapitation itself – that it depicted.
Fitting with his mastery of light and shadow, which the Italian developed into a technique known as chiaroscuro, the painting is dramatically lit from the side to emphasise the facial expressions of the murderer and her maid, Abra.
Mr Turquin told a press conference today that there 'will never be a consensus' about the name of the artist.

[…]

Eric Turquin, an art expert in Paris, said the unidentified Toulouse family were investigating water damage and needed to access a roof. He said: 'They broke a door which they did not have a key to,' said Mr Turquin. 'Behind the door was a painting that the owners did not know about'.
It's a little hard to tell from this photo.  It doesn't seem as well executed – *cough* – as one might expect.
Here's an authenticated Caravaggio in Rome:
Very cool. Everyone… check all the doors in your house.
My favorite depictions of Judith, who gets a whole book in the Bible, by the way, are by Artemisia, who was strongly influenced by Caravaggio.  She did several versions, oneof which is in Detroit, my favorite… note the bending candle flame, the zig-zag lines of her arms and the blade and the arms of the servant, like the sawing that just took place…
And…
In Florence, at the Piazza della Signoria, you can see Donatello's version, which probably has political overtones, as do the other statues there… facing Rome…
Lucas Cranach was a little less savage…
Klimt, whom I don't like very much, frankly – he was a seriously weird guy – has a version.  Look it up yourselves.
And then there's Botticelli, with those typically dainty footsteps.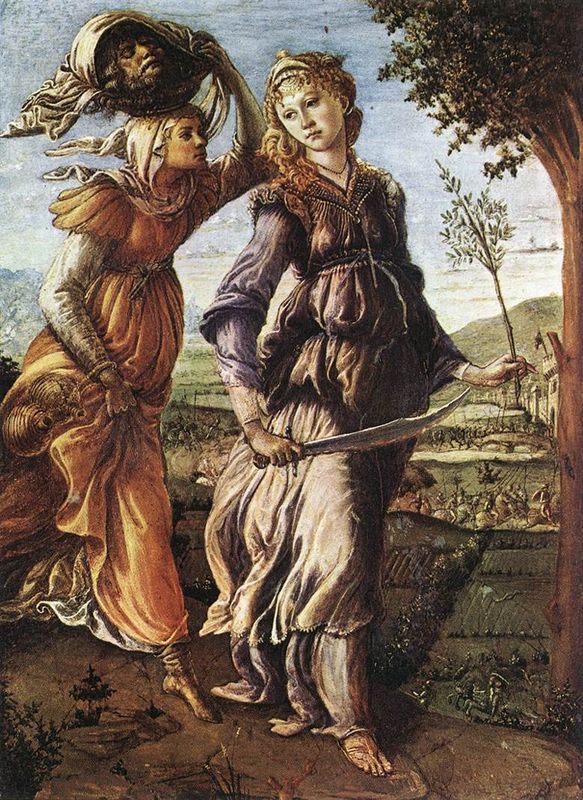 But I digress.
In other artsy news, on this day in 1870, the Metropolitan Museum of Art was formally established. HERE
I will be able to visit the Met again soon, during an enforced exile from The Cupboard Under The Stairs. The Powers That Be are shutting down the power that is for some four days, and so I have to take a hike. I'm heading to NYC for R&R.