On a far happier note, from SpaceWeather and from APOD come astronomical notes of interest.
First, APOD says that Mars is in opposition.  This mean that the entire planet is lined up against liberals, in a kind of solar systemic "resistance" movement.  Mars disapproves of the "gay lobby" in the Church and wants you to take notice.  Hence, because Mars is at its closest approach to your blue planet, it is at its brightest.  Also, there has been a massive, planetary dust up, thus mirroring our Church, which has obscured much of the Martian landscape.  Look at the difference.
Over at SpaceWeather we learn what I saw on my curial calendar today, namely, that there is a Lunar Eclipse in the offing together with a conjunction with opposing Mars!   So, the Moon is also against the gay lobby and may be, like certain other voices, calling for blood, because that's what color it is about to turn as your planet's shadow passes across her face, in totality… except in North America!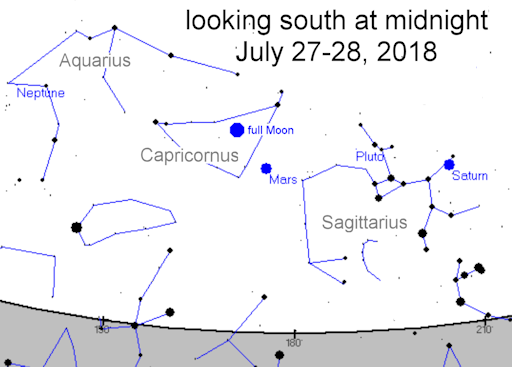 Very cool.  Alas, no totality where I live, so I won't be able to see both the blood-red moon and the opposing red planet in their conjunction.
UPDATE:
The coverage of Stage 19 of the Tour de France mentioned the eclipse when they showed the great observatory on the Pic du Midi.   Spectacular scenery.  The stage began in Lourdes!
The stage began in Lourdes!  You can see the shrine in this brief sample of the scenery from the coverage.
Podcast: Play in new window | Download
Subscribe: RSS